How to Install Android 4.2.2 VJUBNA1 on Galaxy S4 Active GT-I9295
By using an updated Galaxy S4 Active GT-I9295, you gain access to several novelties. More on them and how to perform the upgrade below!
When performing an update on a smartphone, a certain kind of help is needed. It comes in the form of new firmware. In the case of your Galaxy S4 Active, VJUBNA1 official firmware will help with everything. This firmware became available last month for Chile (Claro). Since we mentioned this particular model, be sure to stick with it throughout our guide. Should you you have another model you want to update with our method, don't; you will brick the device you own.
The novelties
After the new firmware is installed on your phone, Android 4.2.2 will become available. Along with its novelties. Which are as follows: a new Gallery app and the option of long-pressing the WiFi Bluetooth icons in Quick Settings in order to be able to toggle the on/off state. Also, your smartphone will use superior Bluetooth audio streaming and a wide array of customization options. Not to mention a whole new and improved set of sounds for wireless charging and also low battery bug fixes. Among the goodies you'll also discover a new set of download notifications and a USB debug white-list.
All of the goodies described just now will make your Galaxy S4 Active GT-I9295 perform better than ever before. But here are some cons about the update if the phone's already rooted: after root access gets revoked, the system partition will be deleted from your phone. All of the most important data on your handset will be saved; as will its internal and also external SD cards.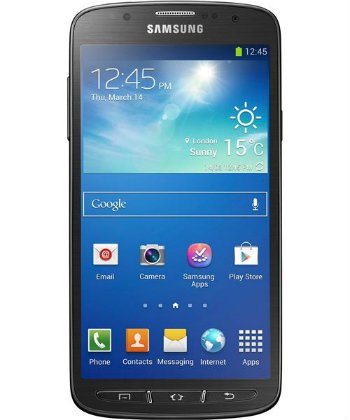 Prerequisites
You're now in need of some requirements. Be sure to:
Step by step instructions
An update starts with this step: keep your notebook open so that you can download some files on it, then save them there and extract both of them with WinZip or 7Zip. The names of these files are and Odin v3.09, available on this page.
The first is located here and you will find the second one over here. Once the extraction is performed, too, be sure to move on to this action: open the Odin v3.09 on the laptop.
After that, enter the Galaxy S4 Active GT-I9295 in Download Mode like this: press and hold, at the same time, Home, Power and Volume Down, have patience till a boot screen makes an appearance, then make sure you press Volume up.
To connect your smartphone to your notebook, you will need to use the handset's USB cord. Once your two devices are plugged to one another, a sign in blue is going to pop up in Odin.
If done with the above, continue by applying the following actions: add the firmware file to AP / PDA and activate some boxes. They are F. Reset Time and Auto Reboot. Only these two must be checked; don't leave Re-partition ticked if it is checked already.
In order to actually have the new firmware on your phone, you must do this: tap an option called "Start", then have a bit of patience while the flashing begins. It won't be long before your smartphone comes up with a message reading "Pass".
The Galaxy S4 Active GT-I9295 will then restart. If the rebooting happens, all you have to do now is unplug the handset from the laptop by taking out the USB cable used earlier.
[sc name="banner-jos"]The VJUBNA1 firmware is now installed on the smartphone. To access it, do as follows: after you find Settings on your device, make sure this option is tapped, then choose About Phone; tap the latter, too, and the new firmware will open. Which means you can test it out and see if it fits your needs and rises up to expectation.
In case it doesn't, however, you should use the NANDroid backup file to restore the previous ROM. After the latter happens, the upgrade will be revoked.
If you have questions, feel free to leave them in the comment section underneath today's post!