How to Root HTC Explorer
HTC Explorer is the name of the smartphone which will receive SRSRoot today. This new rooting method is aimed at many different devices. But yours is the one that'll have it soon!
To get your hands on this software, you'll need some steps. They will make sure everything goes smoothly with the procedure.
The tool we opted for doesn't come with security threats. Neither is it hard to use. You'll be able to make good use of various additions after you root your smartphone with its help. All of these goodies will bring improvements to your device's battery, performance and so on.
With the SRSRoot tool on-board your HTC Explore, you'll have the opportunity to enjoy those apps which only work on rooted gadgets. Apart from these root-only apps, your phone's also getting new features and customization possibilities. As soon as your device's sporting the new software, you will have both of these permissions: admin and superuser. And, if you want to unroot the handset, you'll be able to use the same method that rooted it.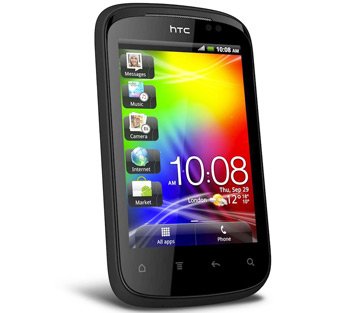 The benefits
The SRSRoot software enables you to use many other builds besides the one we worked with; which is this one: GRJ90. Moreover, this tool allows you to enjoy a bug-free HTC Explorer after the rooting. You'll also be offered custom ROMs and tweaks to personalize the smartphone. Battery life will increase, too.
Also known as HTC Pico, your phone comes with Android 2.3.5. This won't matter for this special tool. The latter's compatible with this version as well as with many others. Your handset's 600 MHz Cortex A5 processor will deeply benefit from the rooting; its speed will increase so that the performance gets even better.
If you're using a phone with root access and you want it updated, the device will have its root access revoked. Damage will also be done to its system partition. Also, a rooted handset will lose its warranty. Fortunately, important files, contacts and other important content will stay safe. The internal / external SD cards on your phone will not be damaged by the rooting.
Prerequisites
You should now concentrate on these requirements:
your notebook needs to sport Windows;
check battery levels on your device and charge its battery till it's full;
you should protect the phone's data by providing standard backups;
provide a full NANDroid backup via these instructions;
your notebook should feature USB drivers compatible with your smartphone;
USB Debugging needs to be activated on the handset;
disable the laptop's security programs next;
then make sure the same programs are disabled on the notebook.
Step by step instructions
Your HTC Explorer can now be rooted using this simple method. Below is what you need to do to install the latter.
You will first be required to download the SRSRoot software on your notebook. Here's how: access this webpage, then click on a download button which will appear soon.
If the software is now on your device, install it. After that, open it on the same device and do this: activate Unknown Sources.
This option is easy to find. All you need to do is as follows: go to your HTC Explorer and tap Menu. After that, tap Settings. You'll see, right under this option, the one you have ti turn on.
Once you've activated the Unknown Sources option, you'd better turn USB Debugging on while you're here. But if this option's already been activated for our pre-requisites above, move on to the next step.
According to it, you'll need to perform, with the phone's USB cable, a connection between the handset and the laptop.
[sc name="banner-jos"]Once this connection is provided, you will need to perform this step: tap an option named Root Device (All Methods).
The next couple of minutes will be dedicated to the rooting of your phone. So wait till the process is done. As soon as the device is rooted, you'll have to perform this last step: reboot your phone.
After landing a rooted HTC Explorer thanks to the help of this application, you can finally enjoy the new features, root-only applications and so on.
If you don't want to have a rooted smartphone anymore, you can unroot your phone via the SRSRoot tool.
Underneath this tutorial is a place where you can leave your comments!