How to Flash KitKat 4.4.2 XXU0AND5 on Galaxy Ace Style SM-G310HN
Your Galaxy Ace Style SM-G310HN needs Android 4.4.2 KitKat as soon as possible. Without it, the phone will be devoid of loads of customization opportunities, battery tweaks and much more. As such, consider our upcoming update guide!
Belgium, Italy, Portugal and the Czech Republic have recently received this firmware: Android 4.4.2 XXU0AND5. Use it for your Galaxy Ace Style SM-G310HN if you use it in one of these countries. The carriers that are compatible with the firmware are these: Proximus for Belgium and Vodafone for Italy, Portugal and the Czech Republic.
A smartphone with KitKat 4.4.2 can be improved loads. This OS's main advantages are these: new features, the aforementioned customization options and new apps. Also, this is the version to go to if your phone's battery life is not what it used to be.
The novelties
The device that is compatible with the firmware is the Samsung SM-G310HN. You won't be able to get the same results if your phone isn't this one; worse yet, your device will be bricked.
If you want to upgrade the smartphone with Samsung's KIES, you'd better not use this option. The two main methods you can choose from are OTA and this guide. OTA, though, needs a device which sports stock ROM. If yours doesn't, this tutorial offers an alternative since we don't ask for a phone with stock ROM.
If the handset displays root access, the XXU0AND5 will revoke it. The internal and external SD cards will not be damaged. The system partition, unfortunately, will. Good news: the phone won't have its important content deleted.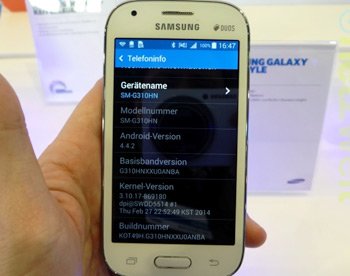 Prerequisites
Consider all of the above before you move on. Then be sure to check these requirements out:
your laptop must have all of its security programs turned off;
the phone's security methods will have to be deactivated, too;
the battery on your handset must be charged;
Windows is the only OS your laptop should have and use;
install USB drivers for the Galaxy Ace Style G310HN on the laptop by going here;
create a couple of backups for the data on your smartphone;
a full NANDroid backup should also be generated;
turn, on the phone, USB Debugging on.
Step by step instructions
Here is how you can start the installation of the new firmware.
Turn to your notebook first. Make sure these are downloaded and saved on it: the Android 4.4.2 XXU0AND5 for , (), and along with Odin v3.09. What comes next after the download is this: unzip each of the packages on the notebook with 7Zip or WinRar.
This operation will deliver a bunch of new files. Odin v3.09.exe is one of them; we recommend launching it on the laptop.
This step once performed, enter the handset in Download Mode by making sure this happens: press and simultaneously hold Home, Power and Volume Down for a couple of seconds. A boot message will then pop up so that you can instead press Volume Up.
The USB cord of your phone will be useful now. Your smartphone has to be plugged to your laptop with it, so do that, then wait until Odin has something to show you. After some minutes of waiting, the Odin shall have a blue sign to display; this way you'll know about the connection being created.
Once you've seen it with your own eyes, time for these actions: add the firmware file to AP / PDA and activate F. Reset Time together with Auto Reboot. Re-partition is the only box which is already checked; deactivate it.
This time around, tap "Start" to actually begin the new firmware's installation process. "Pass" has to appear on the touchscreen in a green box after several minutes. After this happens, the Galaxy Ace Style SM-G310HN will smoothly restart.
As a consequence of that, your laptop and the handset don't need to be connected to one another. Make sure the USB cord that kept them plugged to each other is removed from them.
[sc name="banner-jos"]Tap, after doing that, Settings and About Phone options on your device. They will reveal the new operating system very soon. Which means that its goodies are now available for experimentation.
Try some of them out and see whether the Android 4.4.2 KitKat is what you expected it to be. Should it not be, the NANDroid backup file helps restore the previous ROM. Unfortunately, it also manages to revoke the upgrade.
Check out the comment field below should you want to leave questions for us!