Root Galaxy S4 Active I9295 on Official Jelly Bean 4.2.2 XXUAMF7 Firmware
If you've actively looked for a rooting tutorial aimed at your Galaxy S4 Active I9295, you should stop because we have just the thing for you! Your phone will end up rooted at the end of this guide.
The thing with most rooting guides is that your device, no matter which one it is, should have already received an update to Jelly Bean 4.2.2 XXUAMF7 official firmware.
Requirements
Such is the case with the Galaxy S4 Active GT-I9295, which will get the upgrade only if you follow the above requirements:
the handset must have been update prior to this tutorial to Android 4.2.2 Jelly Bean XXUAMF7 official firmware;
you have to turn on USB Debugging on your handset;
use the carrier and factory unlocked variant;
on your comp be sure you have downloaded USB drivers for the smartphone in question;
charge the battery of your device;
create backups using these instructions.
Your handset is going to lose its factory warranty once the phone is rooted. But there is good news: if you don't want that to happen, you shouldn't follow our guide. But, if you do want a rooted Galaxy S4 Active I9295, you will reclaim the warranty by flashing official firmware made by Samsung.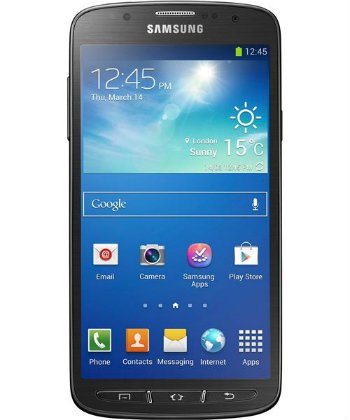 Instructions
As for what to do next: read the steps below. They are the ones which will get you a rooted handset in the end.
For the first step you should download Odin tool 3.07 (from this place) and (the file's name is this one: CF-Auto-Root-jflte-jfltexx-gti9505.zip) for your phone on your notebook; don't mind the "9505", it works very well on your phone even if it has been developed for the S4 I9595 LTE model and not the one in our guide.
Unzip the zip files to the laptop; you will get the files that are required for the phone's rooting later on. Then power your Samsung I9295 off.
Now enter it in Download Mode like shown here: press + hold Home + Volume Down + Power at the exact same time, then stop as soon as you spot the Android logo and "!" in a triangle and press Volume Up instead.
Your PC should have the Odin running as Admin, then you will have to plug the handset to the former device; when Odin shows "Added!!" and a yellow COM port number, the devices will have been connected at last.
You need to use another USB port of flash the USB drivers again in case there is no connection whatsoever. Now stay in Odin; tap "PDA" next.
[sc name="banner-jos"]Then opt for the CF-Auto-Root-jflte-jfltexx-gti9505.tar.md5 file and after that check F. Reset Time as well as Auto Reboot; if Re-partition is activated, change that. Now you need to begin the flashing of the rooting firmware by doing as follows: tap "START".
Now look around for "Pass"; also make sure there is a background in green. These are the two signs which tell you that the flashing is over and that you should disconnect the Galaxy S4 Active I9295 from your laptop.
Great, your phone has finally been rooted. See if the process has been completed with 100% success by using Root Checker, an app located in Google Play.
Next thing you can do: go on the Internet and start looking for root-only apps; then download them on your phone and use them. You can also look for custom ROMs and save them on the same device. The choice is yours!