How to Flash KitKat 4.4.2 ZSUANB1 on Galaxy Tab PRO 10.1 SM-T520
Today's post is all about Galaxy Tab PRO 10.1 SM-T520 and how Android 4.4.2 KitKat can land on it!
This firmware is Google's newest OS variant. When this version is introduced to a gadget, the latter gets the chance to deliver a much superior performance. This is exactly what will happen to your Samsung SM-T520 once the ZSUANB1 is installed on it. This firmware is meant for Hong Kong. It came out in April this year for your tablet, so don't install it on a different model. If, however, you don't listen to us and do flash it on another tablet, that device will eventually be bricked.
The new tool is not that kind of firmware which allows you to grab the upgrade via KIES software. Still, there are always alternatives to this, such as OTA, an over-the-air method.If you go with this one instead of our tutorial, your tablet will need stock ROM. When that's not the case, our guide is completely fine with the absence of stock ROM, so you can use it anytime you wish.
After an update has been performed, new features and options will appear on your tablet. The new OS, in particular, is responsible for many of them. You'll enjoy a complete lack of bloatware, many new apps and a variety of customization tweaks. New features as well as battery boosters will also be available for use.
If there is root access on your tablet, the update procedure will revoke that. Damage is also going to be done to your gadget's system partition; the latter will be deleted. As always, your device won't lose its data or its internal and external SD cards.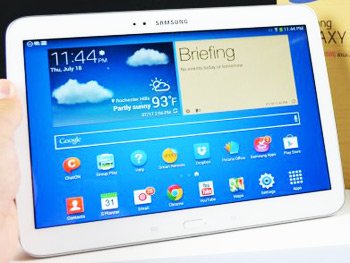 Prerequisites
The upgrade to ZSUANB1 is greatly helped by some crucial pre-requisites. They're telling you to do the following:
create a standard backup, using the instructions from this page;
perform, afterwards, a full NANDroid backup;
enable an option labelled USB Debugging on the Galaxy Tab PRO 10.1 SM-T520;
download USB drivers on your laptop;
you will be required to perform the update on a laptop with Windows on-board;
charge the battery of your tablet;
disable the tablet's security programs;
turn off the ones that are pre-installed on the laptop.
Step by step instructions
After doing what the previous instructions told you to, the installation of the new firmware can begin.
This whole process's first step sounds like this: download, on your laptop, 2 important files. The is one of them, with Odin v3.09 being the second one. There are a lot of important files stored in each of these packages, so proceed to unzipping them via WinZip.
The important files we just mentioned contain one known as Odin v3.09.exe. This one must be open on the notebook for this next step.
Up next: boot your Galaxy Tab PRO 10.1 SM-T520 in Download Mode, an action which is in need of certain steps. Here you go: press and hold Home, Power and Volume Down together and do that till the moment a boot message comes up. When it does, press Volume Up.
Time for the next phase: plug the tablet to your laptop. If this step is done with the aid of the tablet's USB cord, things will go well and the Odin will soon have a sign in blue to welcome you with.
Now that the devices are connected to each other, add the firmware file to AP / PDA. Your next move is this one: tick Auto Reboot and F. Reset Time, after which you should deactivate Re-partition. The flashing of the new firmware has to be done by tapping "Start".
"Pass" will then show up on the touchscreen of your gadget and the latter will restart. After the Galaxy Tab PRO 10.1 SM-T520 comes back to life after the flashing has ended, you will need to complete the last step. For this one, unplug the tablet from your laptop.
[sc name="banner-jos"]When even the final step is completed, you will have to go to your gadget's Menu, tap Settings, then tap About Tablet. The Android 4.4.2 ZSUANB1 will be there to welcome you.
If you can't wait to test it out, launch it and enjoy it. If you think the previous ROM was way superior, the NANDroid backup file can help you bring it back. Once it does, the update will be revoked.
In case you have questions for us, we recommend leaving them below.