How to Flash Android 4.2.2 UIUANB1 on Galaxy Tab 3 7.0 Lite SM-T111M
Galaxy Tab 3 7.0 Lite SM-T111M will soon receive the latest Android version available for it. So prepare your tablet for the procedure which will make that happen!
What your tablet needs right now is Android 4.2.2. The method of getting the newest Android version is an upgrade. But for that, UIUANB1 is the necessary tool to install on the Samsung T111M. This most recent firmware is out now for Brazil (TIM).
We recommend using the Galaxy Tab 3 SM-T111M for this whole process; you will only end up with a damaged tablet if it isn't the model we just pointed out. If your gadget contains root access, the update will erase its system partition and it will also do the following: revoke root access. On the upside, your tablet will not end up with deleted data or damaged internal / external SD cards.
You will have to opt for our guide or OTA for the upgrade: the new firmware's KIES logo is not activated. Should you go for the OTA way, your gadget needs stock ROM; our tutorial doesn't.
If the novelties that come with the new Jelly Bean are a mystery to you, we'll display all of them now. So, without further notice, here's what the first set of goodies contains: better Bluetooth audio streaming and a USB debug white-list. Moving on, you'll enjoy a new set of sounds for wireless charging and a new Gallery app. There are also these for the taking: a new set of download notifications and low battery bug fixes. We shouldn't forget the possibility to long-press the WiFi Bluetooth icons in Quick Settings in order to be able to toggle the on/off state.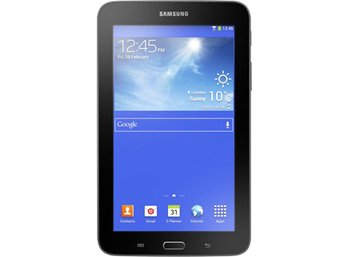 Prerequisites
To properly make the best of the update, you need to follow some pre-requisites:
if you don't want to lose the tablet's data, make backups;
turn off the security programs running on your Galaxy Tab 3 Lite SM-T111M;
a full NANDroid backup will be very useful later on, so create it as well;
recharge the tablet's battery;
enable, on the gadget, USB Debugging;
disable your tablet's antiviruses and so on;
go here to find USB drivers that need to be downloaded on the notebook;
only Windows needs to be installed on your laptop.
Step by step instructions
These requirements are followed by our update steps.
Complete the first one like this: your notebook must feature (TIM) as well as Odin v3.09, available on this page. Next: choose an unzipping method to extract the packages' content. Once this is done, you will come across some files.
Choose, from among them, the following one and launch it on your laptop: Odin v3.09.exe. After making sure this file's running on that device, boot the tablet in Download Mode with the help of these steps: press and hold Home, Power and Volume Down simultaneously and a boot message will soon be displayed, at which moment you should press Volume Up.
Now's the right time for connecting your tablet to the laptop. Use the USB cable of your device. The connection will go without a glitch if you use precisely that cable.
When the plugging is achieved, the Odin will have a blue sign for you to observe and know that the connection's been created. As always, add the firmware file to AP / PDA when the previous step's completed.
This is what comes up next: check both F. Reset Time and Auto Reboot, uncheck Re-partition, click on "Start" and wait while the new firmware is flashed.
The exact amount of time you need to wait is 15 minutes tops. As the installation will reach its end, the Galaxy Tab 3 7.0 Lite SM-T111M will show up with "Pass" in a green background and then automatically reboot. This is where you should end the guide.
[sc name="banner-jos"]Do that by unplugging your tablet from your notebook. Once the tutorial is over, you will be able to take the new Android 4.2.2 version out for a test. For the OS to launch, you have to tap Settings, then About Tablet.
When the Android 4.2.2 UIUANB1 is not what you expected it to be, there's always the option of restoring the device to its former ROM.
If you wish to have it back, the NANDroid backup file should be the method you go for. Once the old ROM is back, the upgrade procedure will be revoked.
For questions, we suggest using our comment box below.