How to Flash KitKat 4.4.2 XXU1ANF8 on Galaxy Tab S 8.4 SM-T705
How about upgrading Galaxy Tab S 8.4 (LTE) SM-T705 to the latest Android version to have come out for it? Keep this gadget close to you and you'll end up with an official firmware to keep you company!
Android 4.4.2 KitKat XXU1ANF8 has been available since the beginning of this month. It is this firmware that will end up on your tablet. The new tool is official and only compatible with the Galaxy Tab S 8.4 SM-T705. The regions this firmware is available for a lot of countries (the complete list is below, in the download area).
The benefits of this update
As soon as the right tool is part of your tablet, you'll no longer experience problems with its performance. The gadget will last more than ever before thanks to battery tweaks brought on by the upgrade. It will have new features and new apps to enjoy, too. Customization options are available, as are faster speeds for the tablet's CPU.
The novelties we just presented will only be delivered if the right device is used. So if your tablet isn't the Samsung SM-T705 model, you'd better use another update tutorial. This one will brick your gadget.
In order to end up with an upgraded device, you will have to let certain things go. This will happen only if you own a rooted tablet. But first, it should be noted that the important data, internal / external SD cards and other crucial elements will not be damaged. Now here's a look at what you will lose after the procedure: root access and system partition.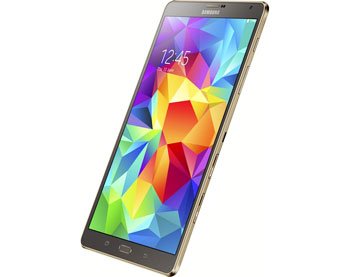 The newest firmware out now for your tablet has its KIES logo disabled. Such an disabled logo allows you to get the upgrade with OTA instead of our guide. But the over-the-air method needs a tablet with stock ROM on it.
Prerequisites
We need you to do this now:
use this page to download USB drivers for the tablet on your laptop;
keep the data on your tablet safe from damage by performing regular backups;
open, on your laptop, its security programs;
have them turned off;
do the same for the tablet's security options;
Windows should be your notebook's OS variant;
generate a full NANDroid backup (the complete tutorial on how to do it is here);
your tablet's USB Debugging should be enabled;
the Galaxy Tab S 8.4 (LTE) SM-T705 has to contain a fully charged battery.
Step by step instructions
Those were our pre-requisites. When you're done performing this set of preparations, you'll have full access to our update steps below!
Step one: download the Android 4.4.2 KitKat XXU1ANF8 official firmware for your region (, , , , , Philippines ( / / / ), , , and the ) on the notebook. Odin v3.09 is a package that should also be downloaded there.
Extract them both with one of these: 7Zip or WinRar. Wait till Odin v3.09.exe comes out of the extraction, then open it on your laptop. Download Mode should be entered into by your tablet.
Do that by pressing and simultaneously holding these 3 buttons first: Home, Power and Volume Down. A boot message will make an entrance after you do that. Time to press only Volume Up when the message pops up.
There's something else to be done next: a plugging between the tablet and laptop. Help for this part comes from the tablet's USB cord. After using it, the Odin should be allowed to find the gadget.
After it does, a sign in blue is going to be delivered. This means that the next step can be started. So add the firmware file to AP / PDA.
You should now enable Auto Reboot and F. Reset Time. Re-partition is the one box which must be unchecked. This is how you need to begin the actual update: click on "Start".
When you're done, the upgrade will require some time to be complete. This time means about 13 minutes. If more time passes, then you will have to repeat the guide.
[sc name="banner-jos"]A successful update will happen only if you spot this message: "Pass". The tablet will start again soon afterwards.
When it completes this part, the Galaxy Tab S 8.4 SM-T705 will need to be disconnected from the notebook. This has to be done in the following manner: remove the USB cable.
When no connection is happening between the devices, proceed to the last step. For it, enable Settings and About Phone.
You have access to the NANDroid backup file if you aren't excited about the upgrade. This file will bring back the tablet's former ROM. If you want it to do that, you'll have to say goodbye to the update procedure.
Do you have questions for us? Kindly leave them in the comment field below!