Install Jelly Bean 4.2.2 DDUANC1 Firmware on Galaxy S Duos 2 GT-S7582
There's something new for your Galaxy S Duos 2 GT-S7582: an upgrade to Android 4.2.2. The guide you are about to read contains the way to install special firmware that's needed for the update. Don't go anywhere!
There is a new Android version in town. This one can only appear on your smartphone if the latter's running DDUANC1. Which is the special firmware we mentioned before. It came out this month for India and you can enjoy it only on this handset. Make sure you don't use a different smartphone, because you will end up with a bricked product.
The novelties
When the new OS arrives on a new phone or tablet, it greatly improves their performance. It also delivers many novel things. Like, for starters, the possibility to long-press the WiFi Bluetooth icons in Quick Settings in order to be able to toggle the on/off state. Then you get a new set of download notifications and a USB debug white-list. More on the menu: a new Gallery app and low battery bug fixes. Last but not least: enhanced Bluetooth audio streaming and a totally new set of sounds to be used for wireless charging.
The most important two things to know about the update imply the phone's system partition and root access. So, if the Galaxy S Duos 2 GT-S7582 is rooted, it will lose both the root access and its system partition. However, it won't lose these: important content and internal / external SD cards.
This guide doesn't request the presence of stock ROM on your handset. But, if you want to use OTA for the procedure, do so only if the phone's boasting stock ROM. You can't upgrade the device with Samsung's KIES software.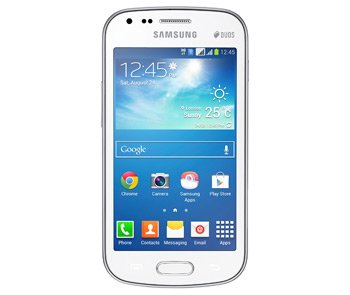 Prerequisites
Below are the pre-requisites which tell you to do the following:
keep the data on your Samsung GT-S7582 safe via several backups;
creating a full NANDroid backup is highly recommended;
enable, on your smartphone, USB Debugging;
disable the security software on your phone;
turn off the one running on the laptop, as well;
go on and fully charge your handset's battery;
you have to go to this place and look for USB drivers compatible with your phone;
download them on your notebook;
use a laptop that has Windows among its main specifications.
Step by step instructions
After our pre-requisites are all done, move to the first step of this guide.
It needs you to download these packages on your notebook: and Odin v3.09. They have to be unzipped with WinRar next, then you should find Odin v3.09.exe and open it on your laptop. As soon as you are done with this step, time for another one.
This time around, make sure you enter the Galaxy S Duos 2 S7582 in Download Mode. This action should be done like this: simultaneously press and hold Home, Power and Volume Down, release them the second a boot message is on the screen, then press Volume Up.
Now go to the phone's box and take its USB cable out. The latter is the tool which makes a connection between the handset and your laptop possible.
Soon after you've used it, a blue sign is going to come up in Odin. Once a successful plugging has been finally achieved, time to add the following to the AP / PDA: the firmware file. Tick these 2 boxes now: F. Reset Time and Auto Reboot.
After you go and have Re-partition unchecked, be sure to tap "Start". Then wait for approximately 13 minutes for the flashing to be all complete.
As soon as the phone's screen contains "Pass" and it automatically reboot, your device will have the DDUANC1 firmware together with the new Android. Go ahead and remove the USB cord from the two devices.
[sc name="banner-jos"]You are now very close to experiencing the Android 4.2.2 Jelly Bean. If you don't know how, tap Settings on the Galaxy S Duos 2 GT-S7582, then About Phone. From there, launch the new operating system and its many goodies!
Should the novelties not appeal to you, you can have the previous ROM restored. Which is the role of the NANDroid backup file, so make sure to use it for this. After that, the upgrade will become revoked.
For questions we have a comment box under this post!