VRBMF1 Jelly Bean 4.1.2 Official Firmware on Galaxy S3 SCH-i535
Verizon Galaxy S3 SCH-i535 is a force to be reckoned with. Not for everybody, but for some it is, since they own it and are perfectly happy with its performance. They are the ones to whom we dedicate this tutorial: how to update the phone to VRBMF1 Android 4.1.2 Jelly Bean. The firmware comes directly from the American carrier, so you should not fear bugs or other problems. From what we experienced with this particular tool, our handset did not have issues with the connectivity, so all's good in case you were wondering. Also, you are going to see many different improved things.
Requirements
We give you the zip files that need to be on your PC right now: Odin tool and the . If you are done flashing them on the device, you should proceed to these pre-requisites: charge the battery inside your Galaxy S3 SCH-i535, create enough backups to make sure the content on your handset is safe, find USB Debugging and turn it on and end this by installing USB drivers for the phone on the laptop.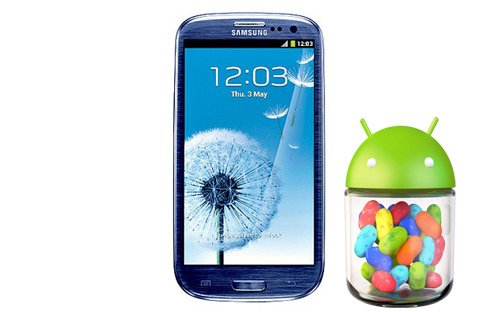 How to install VRBMF1 firmware on i535
That was all for requirements. Next up: the actions which are needed for the update.
Plug the smartphone to your laptop and, after the two zip files from the pre-requisites are in their place, you should get them from there; next: send them to the handset's SD card root.
Then unplug the devices from each other's grip. After you also power the Samsung Galaxy S3 i535, you need to enter the latter in Recovery Mode; an action that needs to be done properly, which is like this: press and simultaneously hold Volume Up, Home and Power.
The display of the smartphone shall flash; so don't press + hold those keys anymore, just make a NANDroid backup.
The latter action should be performed the following way: choose Backup&Restore, opt for Backup one more time after that and you will be done with this part; shortly after the task has been completed, you have to be in the phone's Recovery Menu again and choose the following: Factory Reset/Wipe data; this action needs a confirmation, so opt for "Yes" to obtain that, then have patience for a few seconds.
Once the data is wiped from your handset, you need to return to the Recovery Menu once more.
While you are in this menu, your tasks will have to include this: opt for Wipe Cache Partition and select Wipe Dalvik Cache.
These wiping tasks should be followed by you choosing Install zip from the memory card.
[sc name="banner-jos"]When over with that, you have to opt for Choose zip from the memory card, then choose the d2vzw_VRBMF1 firmware archive with Power and confirm with "Yes". The file will then be flashed on the smartphone.
Having just got it on your Galaxy S3 SCH-i535, you need to be in the Recovery Menu once again for the next task; which should happen like this: restart your device.
Your handset is very soon going to reboot; then it will boot in the VRBMF1 Android 4.1.2 Jelly Bean firmware. Which was the purpose of this very guide. Enjoy this ROM the best way you can! Should you come across any sort of trouble, we are here to help, so give us a sign below.