Update Galaxy Note 3 Neo LTE SM-N7505L to Android 4.3 UBUBND3
Galaxy Note 3 Neo LTE (Latin) SM-N7505L will be on the roll after we're done with its upgrade. Your smartphone is about to experience what this sort of procedure is able to offer. And it offers plenty of stuff, both new and helpful.
Your handset has an Android 4.3 Jelly Bean running on it as an OS version. This variant works very well with the update firmware we prepared for today: UBUBND3. More than that, you need to upgrade the Galaxy Note 3 Neo LTE SM-N7505L with this tool. The official firmware that can update your device doesn't work with another model than the one we just advised you to own. If you still want to install this firmware on a different model, you'll have it damaged.
The benefits of this official firmware
It's best to use our tutorial if you live in Mexico and use Telcel as the device's carrier. Released in May this year for your handset, this official firmware is available with an activated KIES logo. Those of you whose phone contains stock ROM: you can use the KIES software for the upgrade. Those of you whose smartphone doesn't have stick ROM: use our guide.
If you've always wanted new features, you can get them on your phone with this update. Also, your device will experience longer battery life and new apps. The update lets you do another important thing: personalize your handset via its customization tweaks. If previous updates brought some bugs with them, this one won't do the same.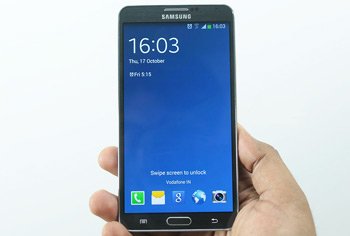 An update which is initiated on a device with root access will have some cons to experience. They are related to the system partition of your phone and its root access. The latter will be revoked and the system partition will be deleted. The damage won't extend to your handset's important data. The internal and external SD cards as well as other important content won't experience damage, either.
Prerequisites
A great idea is to go through these requirements next:
if you want access to your device's important data after the procedure's over, create a backup;
a full NANDroid backup is the next best thing to achieve;
charge the battery of your smartphone until you notice it's 100% full;
your notebook is required to feature USB drivers fit for the Samsung SM-N7505L;
get them from here;
download them on your laptop;
the notebook you're currently using for this procedure must be running Windows;
the handset's security programs must to be turned off;
disable the programs protecting your notebook from dangerous viruses;
USB Debugging has to be activated on the phone now.
Step by step instructions
The upgrade will have to be performed via certain crucial steps.
They begin with this first action: download Odin v3.09 (from this dedicated page) together with the on your laptop. Be sure to wait for these two to be downloaded on the device before you save them there.
Use WinZip or WinRar next. One of these will help extract the two packages. Open this file next on your notebook: Odin v3.09.exe. Proceed to the following step now.
According to it, you will have to reboot the SM-N7505L in Download Mode. To enter the handset in this mode, do as follows: simultaneously press and hold Home, Power and Volume Down, release the three once a boot message pops up and press solely Volume Up.
After this action's completed, you should provide, with your phone's USB cable, a plugging between the laptop and your handset.
You are now left waiting until the Odin is ready to display a blue sign. Once revealed, you'll know that the devices are connected to each other.
We recommend you to do this next: add the new Jelly Bean 4.3 UBUBND3 official file to AP / PDA and then turn on F. Reset Time. As soon as Re-partition is unchecked, do the following: turn on Auto Reboot and click on "Start" when done.
[sc name="banner-jos"]You will get a message in green soon. It will say the following: "Pass". This message is going to appear after about 14 minutes. Repeat the steps if the installation of the firmware isn't at all done.
After your phone reboots, disconnect the devices. For which you should basically remove the USB cable. Tap Settings and About Phone then. If done with this, be ready for an updated device!
If the old ROM sounded and felt better, you can use the NANDroid backup file to have it back asap. But you will lose the update.
We recommend the box below if you have questions about the procedure!