How to Root Galaxy Tab 7.7 LTE SCH-I815
Galaxy Tab 7.7 LTE SCH-I815 (Verizon) will experience its first rooting ever. For this, you'll need something that works with your tablet. SRSRoot is what you can use. We'll introduce you to this tool and then give you the steps to root your device with its aid!
The guide that is about to start soon was performed using this Build ID: IMM76D.LP10. Any other Build ID out there can also be used for this procedure. Having the new software on your device won't override its current OS. This application is available for all kinds of Android variants. It can also be used as a way to unroot the tablet.
For a rooting method, this app comes with a whole load of advantages. Besides the ones we mentioned earlier, you'll discover that you have superuser as well as admin permission. This tool works with all sorts of gadgets coming from different brands. An SRS Server is powering the tool.
The benefits of rooting
A few interesting facts about rooting your tablet. If you launch the software on it, you will be left without its warranty. Your gadget is going to end up with a deleted system partition if you update it to another Android version. A third con: the tablet will have its root access taken away should you choose an upgrade for it. Your tablet should be the Galaxy Tab 7.7 LTE SCH-I815; a different model will be affected by the SRSRoot. The internal and external SD cards of your device won't be damaged by an update; the important data will also remain where it is.
Root access on a gadget means improvement in every way. Your tablet will sport custom ROMs, customization options and new apps; root-only apps will also be among them. New features an battery tweaks will land on the device, too. The processor will put on a much better performance. You will not be bothered by bloatware or security problems.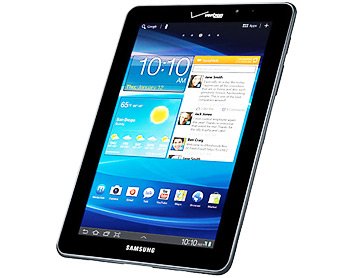 Prerequisites
You should always perform some pre-requisites before the rooting steps. The actions which will prepare the gadget for this process are as follows:
create backups to save the tablet's data;
create a full NANDroid backup next;
USB Debugging needs to be activated on your tablet;
go to this location, look for USB drivers for your tablet and download them on your notebook;
the laptop must feature deactivated security programs;
the same goes for the tablet's security software;
look at the tablet's battery and charge it if it's running low;
make sure Windows is the operating system in use on your laptop is Windows.
Step by step instructions
Your Galaxy Tab 7.7 I815 is now all ready for the SRSRoot software.
This tool must first be downloaded from a site. But not just any page; here is the official download place. If you go there, you'll have a download button at your disposal.
Tap it and the software will be downloaded on your laptop soon. Install the tool, open it on the notebook and then go to Menu on your tablet.
Once you open this option, tap it and then tap Settings. After that, tap Unknown Sources. If you performed our pre-requisites above and you forgot to tap USB Debugging, now's the time to tap it.
After this step is performed, you should enable a connection between your tablet and the laptop. This plugging will only work if you use the tablet's USB cable.
Once the right tool has been used, the installation of the rooting software is ready to start. But first, go to this option: Root Device (All Methods).
Tap it, then wait for the flashing to end. The installation has to begin, then it will have to be over in a couple of minutes.
[sc name="banner-jos"]As soon as your Samsung SCH-I815 has the SRSRoot software, it will start again on its own. This means that your gadget will start enjoying the novelties we advertised earlier as soon as possible.
You can thus enjoy all of them as soon as you want. If by testing them you aren't impressed with these goodies, you can use the same tool to unroot it. It will work as smoothly as the rooting did.
In case you have some questions about the tablet's rooting, you are welcome to leave them in the comment section below.