How to Install KitKat 4.4.2 XXU0AND7 on Galaxy Ace Style SM-G310HN
Galaxy Ace Style SM-G310HN gets its turn at Android 4.4.2 at last!
If it weren't for Android 4.4.2 XXU0AND7, your phone would never be able to receive improvements, new features and other such novelties. This new OS will allows you to change your device the way you want to. There are loads of tweaks for that. The same goes for those of you who want better battery for your phone. The new firmware has all of this and more.
The XXU0AND7 official firmware is out now for the Nordic countries. Refrain from using our guide to install this firmware on a smartphone which is not the Samsung SM-G310HN. If you do use the wrong device, you will damage it, so keep that in mind.
When you plan on performing an upgrade, you can choose from three methods: a guide, KIES or OTA. The KIES logo that is equipped with today's firmware is turned off. This situation calls for the use of the third method if the handset has stock ROM. In case it doesn't, this tutorial offers help with the procedure.
Your Galaxy Ace Style G310HN may have root access. What does that mean for the upgrade? First of all: the phone's root access will not be a part of it once you're done with the process. Then you will no longer be able to use the smartphone's system partition; the latter shall be erased. No damage will affect the phone's data or its internal and external SD cards.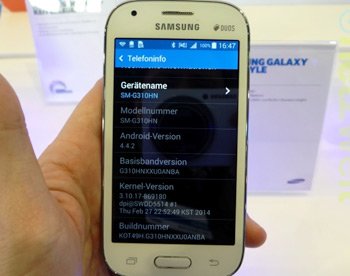 Prerequisites
We have some requirements for you to follow now:
USB Debugging is the option which must be enabled on your phone;
there is a bunch of security programs on your handset and they have to be deactivated;
fully charge your handset's battery;
use, for this tutorial, a notebook with Windows;
disable the notebook's security programs, too;
your notebook should contain USB drivers that work with your Galaxy Ace Style SM-G310HN;
the data on your smartphone has to be saved, which is why you must create backups;
you need to create a full NANDroid backup.
Step by step instructions
If the above have just been completed as instructed, the update is ready to begin.
Your laptop should contain, for the first step, some packages. This is where you will find Odin v3.09 to download on it. Then go to this place for the . Unzip them with WinZip or 7Zip, then wait for Odin v3.09.exe to show up in order to open it on the laptop.
After doing that, the smartphone will be required to enter Download Mode. For this to be done the right way, follow this method: press and simultaneously hold Home, Power and Volume Down for a short while till the display has a boot message; press Volume Up to enter the Download Mode at last.
Moving on, here's what's required of you for the next step: plug the smartphone to your laptop. The tool which works well here is your phone's very own USB cord. Odin will quickly look after the handset and, upon coming across it, a blue sign will appear.
The connection between your two devices is now established, so add the firmware file to AP / PDA. Afterwards go to these two boxes and check each of them: F. Reset Time together and Auto Reboot. Re-partition has to be unchecked.
To install the Android 4.4.2 XXU0AND7 on the phone, click on "Start". The process is going to commence afterwards, so it's indicated to wait for it to end. The completion of this flashing is indicated by a "Pass" message appearing on the phone's own screen. Not only that, but your Galaxy Ace Style SM-G310HN will reboot.
Now that the procedure is done, you have to complete one more step: unplug the phone from your laptop. Removing the USB cable will be helpful here.
[sc name="banner-jos"]Settings and About Phone are the two options that should be tapped next. By doing this, the new operating system is going to show up on your handset. Use it and make sure it's enjoyable.
If it isn't, you have the option of getting the old ROM back on your device. This is the reason we told you to create a full NANDroid backup earlier. Use the NANDroid backup file for the restoration of the previous ROM. Be aware of the following: once that ROM comes back, the upgrade will be revoked at the same time.
You can leave comments and questions in the box below.