Update Galaxy Tab Pro 12.2 WiFi SM-T900 to KitKat 4.4.2 ZCUAND2
Galaxy Tab Pro 12.2 WiFi SM-T900 has all it needs for an update to Android 4.4.2 KitKat version. The procedure you will need to perform delivers every single feature and option that this tablet requires for a make-over!
When the time comes to get a new OS for your Galaxy Tab Pro 12.2 WiFi SM-T900, KitKat 4.4.2 ZCUAND2 does the trick. All you have to do is use the exact tablet model this firmware is compatible with and then follow our guide.
The update firmware released this month for China is delivered with a deactivated KIES logo. For those of you who want an alternative to our tutorial, there's always an OTA (over-the-air) method you can use. But there's a catch to it: your gadget has to come with stock ROM.
If you have the rooted version of the above mentioned tablet, an upgrade is going to take away some of its advantages. The first to be affected is the device's system partition, which will be deleted from it. Root access is another element to be damaged, in that it will be revoked. Among all of these disadvantages there's also good news: nothing damaging will happen to your tablet's data or its internal / external SD cards.
A tablet that features the Android 4.4.2 OS will offer its owner a wider range of possibilities. That's due to the fact that this version comes with zero bugs, new features and plenty of options to customize the tablet. New apps will also make their appearance on your device after the update.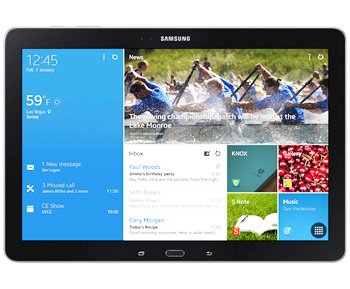 Prerequisites
You should consider these pre-requisites first of all:
install the new firmware only if your laptop comes with Windows;
disable all the security solutions installed on your Galaxy Tab Pro 12.2 WiFi SM-T900;
afterwards, make sure the laptop also has its security programs deactivated;
charge the tablet's battery;
download, on your notebook, USB drivers for the tablet by going to this site;
your tablet has data which is best saved with backups;
a full NANDroid backup should be performed after that;
your tablet's USB Debugging needs to be activated.
Step by step instructions
For the time being, download the following on your laptop: the first, followed by Odin v3.09. Then find a suitable tool such as WinRar to extract the packages with. Wait until all of the files have been unzipped on your laptop.
When they are on your device, time for this step: open Odin v3.09.exe on the notebook. The tablet has to be in Download Mode, so restart it like this: press and hold, at the same time, Home, Power and Volume Down and, once a boot message is out there, press Volume Up instead.
The USB cable which belongs with the tablet must be used for the next step. The latter asks you to connect, with this tool, the Galaxy Tab Pro 12.2 WiFi SM-T900 to the laptop. Odin will shortly come up with a sign in blue. According to this, the devices are now plugged to one another as planned.
This leaves you performing the following task: add the firmware file to AP / PDA. The display will, at the end of this action, display some important boxes. You must only tick these: F. Reset Time and Auto Reboot. Even if Re-partition, another box, is already checked, it's best if you uncheck it next.
Once the steps above have all been performed as intended, the new ZCUAND2 official firmware is ready to update your tablet. So be sure to begin its installation as such: tap "Start".
As soon as you notice the screen of your tablet having a green-colored "Pass" message, you should wait for the gadget to reboot in the next couple of minutes. All of this means only one thing: the tablet and your laptop can be unplugged from one another now. This is an operation that requires you to remove the USB cord.
[sc name="banner-jos"]As soon as the two products are free from this plugging, you should go to Settings, tap it, then tap About Tablet.
If you open the new OS, play with its goodies a bit and discover that they're no good, something can be done about this. Our recommendation is to restore the old ROM. This is done with the aid of the NANDroid backup file. To use it, the upgrade procedure will have to be revoked from your tablet.
If you have problems with the gadget's update, you can use our comment box for questions!