Update Galaxy S4 Active Mini GT-I8580 to Android 4.2.2 JB XXUANA2
If you live in either Russia or Ukraine and your smartphone is Galaxy S4 Active Mini GT-I8580, XXUANA2 will get you Android 4.2.2. But to experience this update, a guide is what you need to follow. We have such a tutorial below.
Before we introduce the means through which you can upgrade your handset, we must warn you not to use another device. The Galaxy S4 Active Mini should be the model you use for the guide. Then be sure to use Kyivstar as your carrier if you live in Ukraine.
After you update your smartphone to the Jelly Bean 4.2.2, you'll discover some very cool things about this OS. And they are the following: low battery bug fixes, a USB debug white-list and a new set of download notifications.
The goodies don't stop here: an updated Galaxy S4 Active Mini GT-I8580 will deliver a new Gallery app and the possibility to long-press the WiFi and Bluetooth icons in Quick Settings to be able to quickly toggle the on/off state. Finally, your device will enjoy zero Bluetooth audio streaming security issues and a whole new set of sounds when using wireless charging.
The features above are all working great, as we tested them ourselves. However, they come with a price. Apply the update on a rooted GT-I8580 and root access shall be revoked. System partition will also be affected, but the internal and external SD cards won't be affected. Your handset's data will be saved.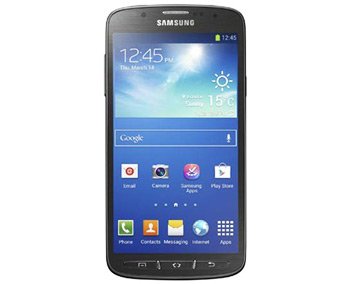 Prerequisites
Below is a bunch of requirements we want you to follow:
download suitable USB drivers for this smartphone on the notebook;
Windows must be your laptop's main operating system for our guide;
turn USB Debugging on;
your smartphone must have its battery charged;
make both a standard backup and a full NANDroid one;
the security solutions used by your Galaxy S4 Active Mini I8580 and the laptop must be disabled.
Step by step instructions
And now on to the tasks you must perform for the first step.
Download and then save these on the notebook: Odin 3.09 from this location and the Android 4.2.2 JB XXUANA2 official firmware (the Russia version should be downloaded ; as for the Ukraine Kyivstar version you need to ). The download must be followed by this action: unzip, via WinRar, the two packages on your notebook.
At the end of the unzipping, another step will appear and you will need to do this: enter your Galaxy S4 Active Mini in Download Mode. This part requires the following: press and hold Volume Down, Home and Power at the same time and, once a boot screen comes up, complete the task by pressing Volume Up.
You will now have to go back to the notebook. On it, open Odin as Admin and then go to the USB cord belonging to the smartphone. You will have to use that in order to establish a connection between the handset and the laptop.
If the plugging begins, wait until "Added!!" and a yellow ID:COM box come up on the screen. Once they don't, you have to redo this step by trying different methods. One of them: use another USB port. If it's not working, you should make sure the USB drivers are flashed again on your laptop.
As soon as you are done with this plugging, your next move should be this one: tap BL, opt for a file with BL in the name, tap AP, choose a file with AP in the name, tap CP, choose a file with CP in its name, tap CSC, select a file which has CSC in the name, click on PIT and choose a file with an extension that has .pit in it.
These are the specific boxes you need to check for the following stage: Re-partition, F. Reset Time and Auto Reboot. Move on by clicking on this: "Start".
[sc name="banner-jos"]When the latter is finally tapped, the XXUANA2 will make its way on to your smartphone. The flashing will only end when the device reboots and "PASS" pops up in green.
You will need to unplug the Galaxy S4 Active Mini GT-I8580 from the notebook once the installation finishes. Then simply tap Settings, tap About Phone and have fun with the new firmware.
If the fun isn't notable, then return your handset to its previous ROM. This is an action which will be helped by the use of the NANDroid backup file we recommended earlier.
Do you have questions? Leave them in the comment section underneath our guide!