How to Root Galaxy Tab 2 7.0 GT-P3100
SRSRoot is a very appropriate rooting tool for Galaxy Tab 2 7.0 GT-P3100. If you've always dreamed of better battery, custom ROMs and other exciting offerings, this software will bring all of that and more!
This app is meant for devices which require rooting. Such as your tablet. When you deal with a rooted Samsung GT-P3100, you deal with some great new additions. Their role is simple: improving your gadget's performance among other things. And to improve that, the SRSRoot tool uses battery tweaks, customization options, root-only apps and so on. The device's dual-core 1 GHz processor will deliver faster speed and you'll have custom ROMs to enjoy.
The benefits of rooting
The tablet has this Android version: 4.0.3 Ice Cream Sandwich. You'll still get to enjoy it after you finish this procedure for your tablet. The SRSRoot is an app which doesn't delete Android versions after it's installed. This tool basically accepts many Android variants. It also delivers full compatibility with many brands on the market. It also works with different Build IDs. In our case, the rooting of the tablet was done with this particular Build ID: IML74K.P3100UBALD3.
By rooting the device using this method, you'll have full access to admin and superuser permission for your tablet. To get rid of root access if you don't like what it does to your device, you can use the same method. The SRSRoot is powered by the following: an SRS Server.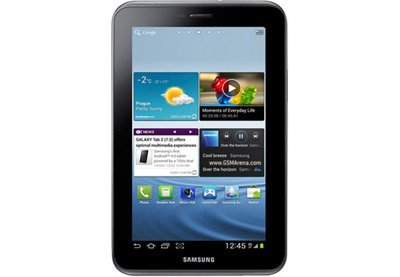 At some point you may have an update in mind for your device. For that to happen, your Galaxy Tab 2 7.0 P3100 is going to have to let go the following: its system partition and root access. There's another item to be affected by the rooting: its warranty. If you want to still preserve important data, you'll be able to do that. Apart from not deleting that, the rooting will also not damage the internal and external SD cards on the tablet.
Prerequisites
You should make your device ready for this process by applying these pre-requisites:
the tablet contains important data that needs protection, which is why you should generate backups;
create a full NANDroid backup afterwards;
the tablet's USB Debugging must be enabled;
perform the rooting only if your tablet's battery is fully charged;
download, on your notebook, USB drivers that are compatible with the tablet;
turn off, on your Galaxy Tab GT-P3100, the security programs;
turn off, afterwards, your notebook's security programs;
your laptop must function with Windows.
Step by step instructions
The rooting of your gadget has to go through a certain set of steps. They are the ones which install the rooting app on your tablet.
The first step has to be done like this: access this page on your browser. By going there, you can directly download the software on your notebook by clicking on a special download button.
After the app is downloaded on your laptop, you're ready to flash it there. After you launch it on the notebook, you have to do this: tap Menu on the tablet, choose Settings and look under it. There you'll spot another option; its name should be Unknown Sources.
As soon as you spot this third option, your job is this: turn it on by tapping it. If you've completed this activation step, you will be asked to move on.
You'll see USB Debugging soon. When you do and should you not have turned this on already, make sure you turn it on now. If the options above are all enabled, you can continue with the rest of the steps.
Here's another one: take the USB cable of your tablet. This cord must be used so that your device and the notebook are plugged to one another the right way.
[sc name="banner-jos"]Have some patience till the connection between the two has been created. After this is done, begin the tablet's rooting.
The method that will help you do this is as follows: tap Root Device (All Methods). The Galaxy Tab 2 7.0 GT-P3100 must be started again after the rooting is over. So activate the rebooting option and you'll be done!
Once the SRSRoot app has done its job, you'll be able to test the new features, root-only apps and such. Should you miss an unrooted tablet, use the same software to reverse the procedure.
We have a comment field under this tutorial. You'll be able to leave comments there!