How to Update Galaxy Note 2 SPH-L900 to KitKat 4.4.2 VPUCNE2
If you're ever looking for an update method for Galaxy Note 2 SPH-L900, why not try Android 4.4.2 VPUCNE2? It's one of the most compatible firmware for your smartphone. And it's also really easy to get it on your device. Find out how that works by following this guide!
Should you want an upgrade to the most recent version of Android, your handset's offered the best tool. The Android KitKat 4.4.2 VPUCNE2 above is tailored made for your Galaxy Note 2 L900. This is why you mustn't use it for a smartphone with another name. Also, make sure you live in USA and you use Sprint CDMA as your handset's carrier. This latest firmware has been released since June this year. It features an enabled KIES logo. For those of you whose phone contains stock ROM, this is very good news. An activated KIES logo lets you use the KIES software for the update.
The novelties
You can use our tutorial should your phone not have stock ROM. Once you decide that you want to upgrade the phone with this official firmware, there are some steps you need to keep in mind. They will come later on. For now, take a look at what an update has to offer.
Having the newest Android version on-board means many things. Among them: new features and new apps. Should you wish to have access to options that'll improve battery life, the new firmware has them. You'll also get to use customization options and many other goodies.
When you have a rooted device on your hands and you want it updated, certain elements will have to go. There's the root access which will become revoked. Then there's your smartphone's system partition; your phone will see it deleted. The internal / external SD cards and important data alike will not be made to leave your handset.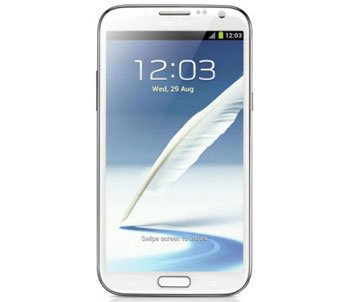 Prerequisites
You have to go through certain requirements if you want an update. They look like this:
be sure to flash the latest official firmware only on a laptop that has Windows;
download USB drivers on your laptop for the handset via this site;
turn off the security methods flashed on your Samsung SPH-L900;
the notebook also has to feature disabled security programs;
fully charge your handset's battery;
your phone's USB Debugging must be turned on;
your phone contains some data which is best saved through standard backups;
a full NANDroid backup must also be created.
Step by step instructions
The Galaxy Note 2 SPH-L900 can now receive the upgrade firmware. Install it by performing some very important steps.
The first of which needs you to download 2 crucial packages on your laptop. These two are the following: the and then Odin v3.09.
Have both of them extracted with WinZip, then launch Odin v3.09.exe on the notebook. When done with all of these actions, prepare for another one: enter the smartphone in Download Mode.
Clueless how to do it? Here are our instructions: press and hold, at the same time, Home, Power and Volume Down, let go of all of them once a boot message is displayed, then press Volume Up.
If your device is in Download Mode as needed, you can plug it to the notebook now. Use, for this connection, the phone's USB cord, then wait for Odin to find this device.
As soon as it does, a sign will be displayed in blue. Here's how to continue: add the firmware file to AP / PDA. If this is completed, move on to our next step: activate Auto Reboot.
Next: have F. Reset Time turned on and Re-partition turned off. While you're here, make sure "Start" is tapped next. After it is, wait some 10-15 minutes for the new firmware to be flashed on the phone.
[sc name="banner-jos"]This procedure is going to end once "Pass" comes up and your handset reboots automatically. Take out the USB cord after the installation is over, then tap Settings on the handset. About Phone has to be tapped, too.
That's all. The phone's just been upgraded. All that's left for you to do is enjoy your updated Galaxy Note 2 SPH-L900. If you don't like what the upgrade's done for it, the NANDroid backup file is available at any time. Just use it when you want to have the old ROM delivered back on the phone. There's a catch: if you use this method, the update will be revoked.
Use the comment field underneath this post if you have questions or comments for us.