How to Update Galaxy Tab Pro 10.1 SM-T520 to Android 4.4.2 ZCUANB4
Galaxy Tab Pro 10.1 SM-T520 is the tablet whose turn has come to be updated, too. The most recent firmware to come out for it is ZCUANB4. And we are here to deliver just the guide which will install it on your tablet in no time at all!
The Android 4.4.2 KitKat is the version which will offer many awesome novelties. Like the usual new ways to customize user experience, new features and such. The ZCUANB4 has been out for China ever since this March.
The firmware doesn't have an activated KIES logo. With this in mind, you can enjoy the upgrade either by following our guide or by using another method: OTA. The latter, short for "over-the-air", will only work if there's stock ROM running on your tablet (our tutorial works with your tablet even if the latter doesn't feature this type of ROM).
But be careful: the method we present today is only available for the Samsung SM-T520. Any other tablet will be bricked if you use our tutorial on it.
If your gadget happens to sport root access, the new OS will revoke its root access. A second negative consequence of the update being done on a rooted device: you won't see its system partition anymore. But the new firmware saves your tablet's internal / external SD cards and data from damage.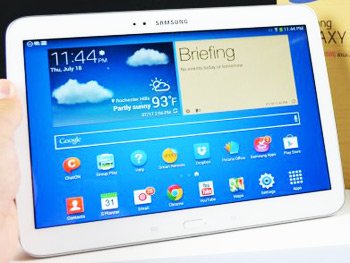 Prerequisites
Next up: some requirements. They are as follows:
the operating system running on your laptop must be Windows;
your tablet's security software needs to be deactivated for this guide;
as do the security programs installed on your laptop;
backups are needed if you don't want to lose your tablet's data;
create a full NANDroid backup, using these instructions;
the battery on your Galaxy Tab Pro 10.1 SM-T520 has to be properly charged;
your notebook must be running USB drivers fit for this tablet, so get them from this site;
USB Debugging should be activated on the tablet.
Step by step instructions
Every single guide needs to begin with this first step: the download of two important packages on your notebook.
Here are their names: Odin v3.09 (available here) and the . Once you make sure they are present on your notebook, save them there, then extract them.
Each of these packages has some files; when the unzipping is done, one of the files belonging to the Odin v3.09 package will be Odin v3.09.exe. Open it on your laptop.
What you should do now is as follows: press and simultaneously hold some buttons to boot the tablet in Download Mode. Here are these keys: Home, Power and Volume Down. A display with a boot message inside it will pop up after you do that; press Volume Up after you release the other keys.
Another step tells you to connect the tablet to your notebook (with the former's USB cable). Wait for a sign in blue to be displayed by Odin, which is the equivalent of this: a connection is now established between your two devices.
Add the firmware file to AP / PDA next, then do as follows: tick F. Reset Time and Auto Reboot, then go and have Re-partition unchecked. If you've completed all of that, begin the flashing of the new firmware on your Galaxy Tab SM-T520 by clicking on a "Start" option.
If, after 14 minutes, you see that the tablet greets you with a "Pass" message in a green-colored screen and the gadget restarts soon afterwards, the firmware will have been installed on it.
[sc name="banner-jos"]In consequence, you are free to do this next: unplug the tablet from your laptop. Then savor the goodies brought by the Android 4.4.2 KitKat. To be able to do this, we recommend the following two actions: tap Settings on the tablet, then choose About Tablet and tap this one, too.
But what should happen in case the new OS doesn't meet your expectations? Something like this: restore the tablet's former ROM. Only problem of this method is the following: the update procedure will subsequently be revoked from your Galaxy Tab Pro 10.1 SM-T520.
However, if you want the old ROM back, you can always use the NANDroid backup file created for the previous pre-requisites.
For questions and comments, feel free to use the comment box under this tutorial.