Install KitKat 4.4.2 XXU1ANFB on Galaxy Tab S 10.5 SM-T800
An update is just what you should set your sights on if you want an improved Galaxy Tab S 10.5 (WiFi) SM-T800. A certain method has to be used if you have that on your mind. The steps we'll get to later on are the ones to actually install the firmware we've selected. So keep up with our guide to discover them!
When you decide on an update procedure, be sure you use the most appropriate tool. We recommend this one: Android 4.4.2 KitKat XXU1ANFB. For this official firmware, we must tell you the following: use only the Galaxy Tab S 10.5 SM-T800. You can't use another tablet version; if you do, expect a damaged device when you're done with this tutorial.
The benefits of this official firmware
The firmware you'll upgrade your tablet with came out this month. France, Canada and the U.S. are the regions to be compatible with the new tool. For the U.S. we recommend using the tablet which has Cellular South as a carrier.
You'll do no wrong if you flash the new firmware on your device. The update will instantly provide you with new apps and new ways to personalize the tablet. New features as well as battery improvement tweaks are also present. As always, the processor sported by your gadget gets better and faster, too.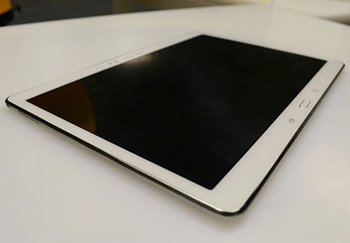 An activated KIES logo is delivered by this official firmware. This is to say that the KIES logo is another way to provide update access. But only if stock ROM is offered by the tablet.
The upgrade will also bring some unwanted consequences. That is, if it's performed on a gadget with root access. Expect to have the following deleted and revoked: system partition and root access. No damage will be reported for the tablet's internal / external SD cards and important content.
Prerequisites
Look at the requirements below before you install the firmware:
install, via this page, USB drivers that are compatible with the tablet on your notebook;
save the data on your tablet with normal backups;
open the laptop's security programs;
disable all of them;
open the notebook's security programs;
turn them off;
Windows must be your laptop's OS;
initiate a full NANDroid backup (the complete tutorial is here);
your tablet's USB Debugging should be enabled;
the Samsung SM-T800 has to contain a fully charged battery;
Step by step instructions
It's important that you begin the update by downloading some packages on the laptop.
The first of them should be the , and . Then download Odin v3.09 from this page on the same device and extract it. The other firmware should also be unzipped. WinRar can be used for this step.
Wait for these actions to be over, then open, on the laptop, this file: Odin v3.09.exe. There's something else to do next: boot the tablet in Download Mode. A set of instructions will have to be applied here.
They tell you to do this: press and hold Home, Power and Volume Down simultaneously till a boot message is shown, at which moment it's best to press only Volume Up.
The tablet and your notebook must now reach a connection. To establish one, you'd better use the tablet's USB cord and wait for Odin to display a blue sign. If the sign is up, add the firmware file to AP / PDA.
Time for some special boxes to pop up. When they're revealed on the screen, search for the ones called like this: Auto Reboot, F. Reset Time and Re-partition.
Turn on the first two, then turn off the third one. The Android 4.4.2 KitKat XXU1ANFB official firmware is awaiting installation. To flash it on the Galaxy Tab S 10.1 SM-T800, you will be asked to tap this: "Start".
Wait for the installation to end. The usual amount of time it takes for this phase to be done: 15 minutes. If more is needed, something's wrong and you have to repeat the steps.
[sc name="banner-jos"]But if the tablet restarts after a "Pass" message is shown, then everything is alright. That means you can now get to the last step: unplug the tablet from your notebook.
Use this task to do it: take out the USB cord. Settings and then About Phone need to be clicked on. This is how the new goodies will reveal themselves to you!
Once you've ended up with an updated tablet, there's finally time to explore it. The upgrade, however, can be disappointing. If that's so, regain the previous ROM by using the NANDroid backup file. You will afterwards get rid of the upgrade procedure.
Consult the comment box below if you have questions for us.