Install KitKat 4.4.2 XXU1ANE9 on Galaxy Tab S 8.4 WiFi SM-T700
Galaxy Tab S 8.4 WiFi SM-T700 is compatible with some very recent firmware. This tool is going to feature an Android version which was released earlier this month. You have the chance to update your tablet to it!
If you're going to use the firmware we found, be sure to use the Galaxy Tab S 8.4 T700. No other gadget is compatible with Android 4.4.2 XXU1ANE9, the tool we specified in the beginning of our guide. If a tablet with another name lands this firmware, it will surely be damaged.
The improvements
As usual, the update method we're making use of is available for various countries. Here are the country it works in: New Zealand, Australia and Canada. The XXU1ANE9 official firmware came out this month for your tablet. But it didn't come out with an activated KIES logo. As such, you cannot make use of Samsung's KIES software. If you want to update the device with another method, OTA (over-the-air) is always available. But, unlike our tutorial, this option needs a tablet with stock ROM.
If the upgrade is performed on a tablet which features root access, you'll end up with damaged goods. They're the gadget's system partition and root access. The device will come out of the procedure with its data and internal / external SD cards intact.
An Android 4.4.2 KitKat version is known for its battery tweaks, customization options, new apps and other goodies. Your tablet will get all of these and much more.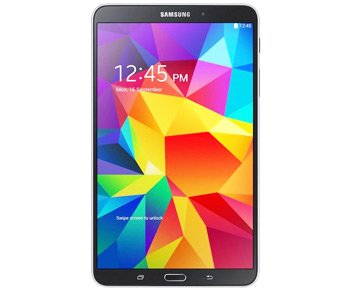 Prerequisites
If the list of damaged goods doesn't stop you from updating your gadget, we recommend the following requirements:
all of the programs which are protecting the tablet against security issues must be turned off now;
the programs that protect your notebook in the same way must be turned off as well;
activate USB Debugging on the Samsung SM-T700;
the operating system used by your notebook must be the Windows variant;
download USB drivers for the tablet on the laptop;
perform the upgrade only if your tablet's battery is charged fully;
create standard backups to keep your gadget's important data safe;
perform a full NANDroid backup.
Step by step instructions
Make sure you download some packages on your laptop for our guide's first step.
These packages are Odin v3.09 (available here) and the Android 4.4.2 KitKat XXU1ANE9 official firmware for , or . Both of these files must be extracted afterwards.
Perform the unzipping with one of the following methods: WinRar or WinZip. Once a file with an Odin v3.09.exe appears, you have to open it on the laptop.
Keep up the work by entering the tablet in Download Mode once you're done with the previous actions. The booting of your gadget in that mode has to be done via certain steps. They're telling you to press and hold Home, Power and Volume Down at the same time, stop when a boot message is displayed, then end up by doing this: press Volume Up.
When done, perform a plugging that will connect the tablet to your notebook with the former's USB cord. Odin's going to look for the tablet after you use that tool.
When you see a blue sign, the Odin will have found your device. This means that you can add the firmware file to AP / PDA for the next step.
When this file's been added there, you need to activate these boxes: F. Reset Time and Auto Reboot. Look for Re-partition among the other boxes and uncheck it, then do as follows: "Start". This is the moment where the new firmware will be flashed on the tablet.
You'll now have to wait until "Pass" is displayed on the screen in green. When it is, the Galaxy Tab S 8.4 Wi-Fi SM-T700 will soon start again.
[sc name="banner-jos"]Allow it to do that, then wait until it's fully restarted before you perform the last step. This one will advise you to unplug the devices by taking the USB cord out. This will quickly disconnect the two from one another and will leave you with an updated tablet.
If you can't wait to test the newly upgraded gadget, you should tap Settings and then About Tablet.
If there's no way you're keeping the new firmware, be sure to use the NANDroid backup file. It will help you restore your gadget's previous ROM.
For questions, use our comment field below this post.