Install Android 4.1.2 ZNANA2 on Samsung Galaxy Grand Duos GT-I9082i
Samsung Galaxy Grand Duos GT-I9082i is best used with an update. That way, you will play with many new features, options and whatnot. An upgrade is not hard to achieve. Just make sure you read this guide!
Your smartphone can have the newest Android 4.1.2 version available via ZNANA2. This March-released firmware is available for China. You can't update your handset to it if you use KIES software. However, OTA or this tutorial can deliver the update. To choose the OTA method, keep in mind that stock ROM must be installed on your device.
The novelties
Since the ZNANA2 firmware was launched for the Galaxy Grand Duos GT-I9082i alone, don't use any other model. Otherwise you'll brick it. If the phone is rooted, once the update's applied you will lose that root access. Another side effect of this upgrade is this: the handset's system partition will be erased. The update will not delete important data or the smartphone's internal / external SD cards.
To have the Android 4.1.2 Jelly Bean on your phone equals to having an enhanced device. Here is what you can enjoy thanks to the new OS: extended Vsync timing and triple buffering. But this is just the tip of the iceberg. Other novelties include all share, a fixed frame of 60 fps and pop up play.
You will also discover stuff such as Google Now and group cast. Your phone will get to experience a new and better keyboard, as well as free style widget. The update also means sync and connect email updates plus automatic adjustment for the size of widgets. Mini apps and touch anticipation are worthy of a mention, too.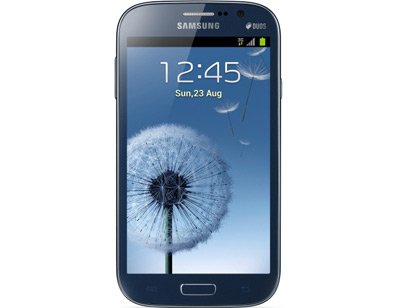 Prerequisites
Your Galaxy Grand Duos GT-I9082i must go through a couple of pre-requisites first:
Step by step instructions
The step that marks the start of the guide needs you to download Odin v3.09 from this page and then the official firmware for China (file name: I9082ZNANA2_I9082CHUANA2_CHU.zip) on your laptop. After the download is over, you should unzip what you just downloaded; use WinZip for this step.
The next task to be accomplished is this: open, on your notebook, Odin v3.09.exe.
For the next step, make sure your phone is booted into Download Mode. To enter your Samsung I9082i in that mode, follow these tasks: simultaneously press and hold Home, Power and Volume Down; as soon as a boot message appears after you've done that, release the keys and press Volume Up.
For this next step, you should use the USB cord that comes with the handset. It will work as a way to plug your handset to the laptop, so use it, then wait.
If the Odin appears with a blue sign, your devices are connected successfully to one another. If that's the case, move on to this step: add the firmware file to the AP / PDA.
Now go ahead and check these boxes: Auto Reboot and F. Reset Time. Look at the box called Re-partition; if it's ticked by default, it should be unchecked. After you do that, tap "Start" and watch as the flashing of the new official firmware begins.
The end of the installation will happen after about 11 minutes have passed and the smartphone's screen has a "Pass" message. Your Galaxy Grand Duos GT-I9082i will soon enter a restarting phase, so give it some space.
As soon as the rebooting is complete, you should end the guide by unplugging the handset from your notebook. If you don't know how: take out the USB cable. Now you're left with this mission: find the ZNANA2.
[sc name="banner-jos"]You can locate it like this: tap, on the Galaxy Grand Duos GT-I9082i, the option Settings; next up: tap About Phone. The new firmware will shortly come up on the display. Use it and see if it is everything you ever wanted for your device.
In case it's not, use the NANDroid backup file we mentioned in the requirements. This file had to be created so that you could restore the old ROM on your phone if you didn't enjoy the new one. If, however, you choose to get the previous ROM back, the update will be revoked.
If there are questions you want to ask us, leave them below.