How to Unroot LG Optimus Extreme L40G
LG Optimus Extreme L40G just received a "How to" guide here at droidgator.com. But the tutorial we are alluding to tells you how to root the phone. If you have already done that and are satisfied with the result, have fun with your handset and don't mind us!
But, if you aren't satisfied with your rooted Optimus Extreme L40G, our advice is to unroot it. This shall make sure that the warranty is back on track along with all the old flavors of your smartphone. By using our tutorial today, you need to be told that the root-only applications which are now on your device will work no more. Is this not upsetting you? Then by all means, follow this guide.
Requirements
We will talk about its steps a bit later. For now, we will give you food for thought with these pre-requisites: download on your PC or laptop (its desktop), make a backup using our guide, charge the phone's battery and own a PC/laptop that sports Windows. Don't use this guide if you have used a rooting one written by somebody else. It won't work on your Optimus Extreme L40G.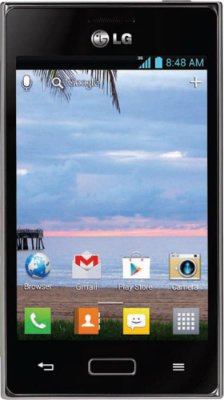 Now that we have agreed on what to do before unrooting the handset, we bring you the steps responsible for a successful unrooting process.
Important instructions
Here is what step number one needs from the owner of this LG Optimus Extreme: go to the desktop of your computer and find the Root Package we told you to download when we indicated the necessary requirements not too long ago.
Continue with the following couple of instructions: unzip the content of the archive to the desktop, then do as step two recommends you to; which is this: go to the phone's Menu, select Settings, click Developer options and then check the box that's close by the option known as USB debugging.
You've now enabled that option and you can proceed to the third step whose prompts sound in the following manner: take the USB cord of the Optimus Extreme L40G and use it as a means of plugging the phone to the laptop.
After you succeed in connecting the two together, the fourth step to mind tells you to double-click on Run.Me.bat file; you will find it if you go to your computer's desktop. After you do this, you need to also opt for Unroot; this option is in the tool itself.
[sc name="banner-jos"]For step five to work as intended, you have to have some more patience till the unrooting of the smartphone commences by itself. Once no more than a couple of minutes (or more, depending) pass, you should be able to reboot the handset in peace.
After the rebooting happens, your task is to simply discover all the possibilities offered by your LG Optimus Extreme L40G in its unrooted state. They are not as many as when you rooted it, but they are important nonetheless. And you will appreciate them even more if you loved your phone for the way it worked before you rooted it.