Android 2.3.6 BGMK1 on Samsung Galaxy Mini 2 GT-S6500D
If you're after something new for Galaxy Mini 2 GT-S6500D, you should try updating it to Android 2.3.6 Gingerbread. This is the best way towards a much-improved experience. The details on how to go about the upgrade are all presented below.
If your device doesn't last as much as it used to or you wish to enhance its performance, the latest Gingerbread 2.3.6 will do the trick. But, to land it on your phone, make sure you install this new firmware first: BGMK1. Launched this month for Spain (Movistar), this official firmware is very easy to flash on the device you own. But only if it's the Galaxy Mini 2 GT-S6500D. If it's a different phone model, you will brick it if you wish to update it to the new OS via our guide.
The novelties
The goodies which are headed for your handset via this update are numerous. Your phone will enjoy better Vcast apps and Visual Voice Mail updates. The new OS will also be responsible for the presence of the following: better VZ Navigator thanks to the latest 3D map improvements around. Not only that, but your phone will have access to these: Commercial Mobile Alert Service and mobile hotspot bug fixes.
Among the many goodies you will also find stability for data connectivity in case you wish to disable a mode called Airplane Mode. No security problems will annoy you. Instead, your device will deliver an enhanced Favorite Contacts widget and stability if you wish to move between home screen panels. 4G data can be used without issues even if you use the smartphone in environments with low 4G signals.
Due to an activated KIES logo, the BGMK1 allows you to update the device with Samsung's KIES. Such a method, however, requires your handset to come with stock ROM in advance.
If you have a rooted Galaxy Mini 2 S6500D, the upgrade is going to provide some hassle. This means that the system partition of your phone will end up deleted and root access will be revoked. The update will, thankfully, leave the important data and the internal/external SD cards alone.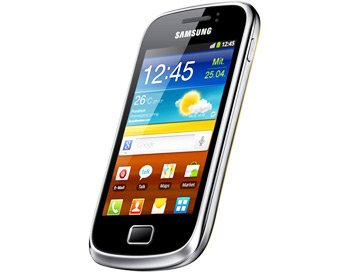 Prerequisites
Below is a batch of very important pre-requisites. Follow them accordingly:
USB drivers for the Galaxy Mini 2 GT-S6500D must be downloaded from this place on your laptop;
the security software present on the smartphone must be turned off;
the same must be done regarding your laptop's security programs;
Windows is the operating system of choice for your laptop;
create both a regular backup and a full NANDroid one;
your handset's USB Debugging must be turned on;
charge the phone's battery.
Step by step instructions
Let's now discover the steps that'll update your phone to the newest Gingerbread version.
Download a bunch of files on your notebook first: the for Spain (Movistar) and Odin v3.09. After you're done downloading these, unzip them after making sure they are saved on the laptop. The unzipping will need a tool such as 7Zip (or WinRar).
Odin v3.09.exe will need to be launched on the notebook, so do that first, then this: restart your Galaxy Mini 3 GT-S6500D in Download Mode. To make this possible, use the following guidelines: press and hold, simultaneously, Home, Power and Volume Down, let go once a boot screen pops up and press Volume Up.
Your laptop and your handset must now be connected to one another with the latter's USB cord. After waiting for a short while, Odin will appear with a sign in blue: your devices are plugged to each other at last.
Next up: add the firmware file to AP / PDA. When you notice a bunch of boxes appearing on the screen, check these two only: Auto Reboot and F. Reset Time. Re-partition, another box, may be checked by default; uncheck it.
Now you should tap "Start" to have the new firmware flashed on your handset. You should then wait for no more than 13 minutes.
When "Pass" comes up in a green background on the screen of your phone, the latter shall reboot. Unplug it from the laptop as soon as it's done with this rebooting. The BGMK1 is currently running on your smartphone!
[sc name="banner-jos"]To check its whereabouts: tap Settings, then About Phone. The firmware will greet you and you will be able to take it for a test or two.
When you're not very satisfied with it, there's the NANDroid backup file to help you regain the former ROM. Just so you know: this restoration also means the end of an updated phone.
You can leave questions or comments below this post!