How to Root Samsung Galaxy Tab 3 8.0 SM-T310
With help from SRSRoot, Galaxy Tab 3 8.0 SM-T310 has access to all the goodies you have ever wanted for it. If you've always wished to see root access on your device, now's the time to give this procedure a try!
Once you've decided to have a go at a rooting procedure, your tablet will never be the same again. And we mean that in the best of ways. The SRSRoot is a dedicated software which has compatibility with numerous brands, Build IDs and Android versions.
Speaking of which, the Build ID we thought of using on your tablet was the one called JDQ39.T310UBUAMH1. Your tablet is sporting this Android variant: Android 4.2.2 Jelly Bean.
This being said, you should know that your gadget was released last year. Its dual-core 1.5 GHz CPU is one of the things about your device which will perform even better. The tablet is also known under these 3 names: Samsung Galaxy Tab 3 8.0 Wi-Fi, Samsung Galaxy Tab 3 8.0 3G and Samsung Galaxy Tab 3 8.0 LTE.
The benefits of this method
If you want to know more about this app, we're happy to oblige. With this app on your tablet, you're guaranteed root-only apps. More than that, you will enjoy new features and battery tweaks to enhance its life. There are also customization tweaks on-board.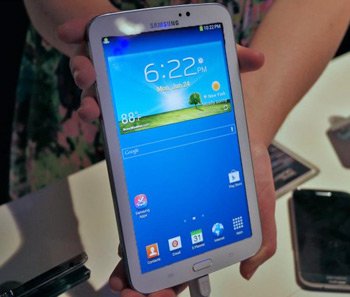 You will, as promised, get to keep the tablet's OS. Many other important specs and so on will be safe from damage. But if you want to provide an update on a rooted gadget, you will no longer have its system partition and root access. Still, nothing hurtful will happen to the tablet's internal / external SD cards or its data if an upgrade is performed.
Once the tablet ends up with root access from this guide, you'll also enjoy custom ROMs. There will be no security problems coming your way. And you won't get unwanted programs, files and such. Instead, your tablet will feature admin and superuser permission.
The SRSRoot app has a last ace up its sleeve. It allows you the possibility to revoke the root access. But if you choose to root your Galaxy Tab 3 8.0 T310, you will lose the device's warranty.
Prerequisites
This rooting software is powered by an SRS Server. To install it on your tablet and enjoy the root access, perform these actions:
generate a couple of standard backups to protect your tablet's important data from harm during the rooting;
create, next, a full NANDroid backup by going through these instructions;
to root the tablet, your laptop's operating system must be Windows;
download, on your notebook, USB drivers that fit your Samsung SM-T310;
a fully charged tablet should be used for our guide;
turn on the tablet's USB Debugging;
have the notebook's security software turned off next;
the security programs that are currently running on the laptop must also be turned off.
Step by step instructions
That's all you need to do if you want your device to be ready for this tool. Apart from these requirements, you should get started with our rooting steps. They are all below.
You have to provide your notebook with the SRSRoot app. This is the page where the software is at. Click on a download button after you're on that site. If the app is on the notebook, install it.
The task to be done now is this: tap Unknown Sources and activate it. This option is underneath the Settings one.
In case USB Debugging hasn't been turned on for the aforementioned pre-requisites, you should take a moment and enable it. If you are finished with these steps, you can do the following: grab your tablet's USB cord. This will prove a great means of connecting the tablet to your notebook.
Once the connection of your products has been initiated, you can begin the tablet's rooting at last. This is the part where you need to click on a particular option.
[sc name="banner-jos"]Its name is the following: Root Device (All Methods). The amount of time you need to wait for now is about 15 minutes. If nothing happens when time's up, we suggest redoing the previous steps.
When the rooting is over, you have to restart the tablet. Reboot System Now should be tapped to begin this stage. That was all; your Galaxy Tab 3 8.0 SM-T310 contains root access.
This application will let you unroot the gadget if you want to do that.
Should you have questions or problems with the rooting, you can use our comment box below.