How to Upgrade Galaxy Fame GT-S6810B to Android 4.1.2 VJAML2
Galaxy Fame GT-S6810B, updated to Android 4.1.2? Yes, that's what we want to offer you today. Your smartphone will then offer great new possibilities. By following our tutorial you will get to experience all of them!
This update needs an appropriate firmware. And we found it recently: VJAML2. To all of our Brazilian readers: you will get to upgrade your device to the OS we mentioned via this official firmware.
If this sounds good, the following features will sound even better: touch anticipation, automatic adjustment for the size of widgets, a new keyboard, a fixed frame of 60 fps and the addition of a new keyboard. These are the next goodies: mini apps, Google Now, free style widget, and triple buffering. But wait, the list is not yet complete: extended Vsync timing, group cast, pop up play, sync and connect email updates and all share are the final couple of novelties.
All of them can be found on your smartphone if it's the Galaxy Fame S6810B. Another model will end up bricked if updated using our method. By the way, Samsung's KIES doesn't work as an alternate update option: the KIES logo isn't activated.
One more thing and then you can move on to the part where we introduce the requirements. On a rooted smartphone, the new firmware will have these cons: the system partition will be deleted and the root access will be revoked. The pros: you will get to keep the important data and the phone's internal/external SD cards won't be damaged.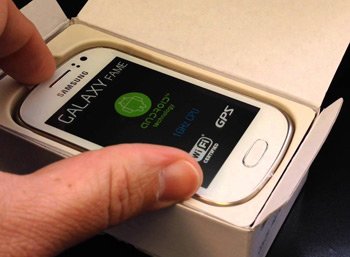 Requirements
Those pre-requisites look like this:
charge, if it's empty, the phone's battery;
the laptop must be running Windows;
USB drivers for your handset must be downloaded on the laptop;
create a standard backup and a full NANDroid backup using these instructions;
every single security program running on the handset and your notebook should be disabled ;
enable, on the Galaxy Fame GT-S6810B, USB Debugging.
Step by step instructions
You should start the guide now. Below you will find all the necessary steps.
Starting with the first one, we ask that you download the Jelly Bean 4.1.2 VJAML2 (the Brazil version is available ) and Odin from this page on the notebook. The packages have some files inside them; they must be unzipped on the same device, so go ahead and use WinRar or 7Zip for this process.
After the extraction is over, your smartphone must be booted into Download Mode like this: press and hold, together, Home, Volume Down and Power and, when a screen of warning is seen, press Volume Up.
Now be prepared to open the Odin as an Admin on your notebook. The handset and the latter should now be plugged to one other with this: the USB cable of your Galaxy Fame GT-S6810B.
If a connection has been made, the screen will have a message saying "Added!!" and a yellow-colored ID:COM box. Once the message and that ID:COM box are present, you should go on to the following step. But if you have troubles with this step, you need to install the USB drivers on your notebook again or simply use another USB port.
For the upcoming step you are asked to do this: tap BL next, select a file with BL in the name, click on AP, opt for a file with AP in the name, tap CP, opt for a file with CP in its name, tap CSC, choose a file which has CSC in the name, tap PIT and choose a file with an extension called .pit.
Then check these boxes: Auto Reboot, Re-partition and F. Reset Time. If you are done with the activation of these boxes, here comes the most important step of all: the flashing of the VJAML2 on your Galaxy Fame GT-S6810B.
[sc name="banner-jos"]The action that will make it happen: tap "Start". Once you do, the installation will soon commence. The procedure is going to take a few minutes. When they are up, you should see your handset reboot; a second sign which will happen: a "Pass" message will be displayed on the touchscreen.
You can unplug your devices from one another, then tap Settings and click on About Phone. The VJAML2 is up for grabs, so move on to its exploration.
If you find something wrong about this new firmware, the previous ROM will be easy to get back: just use the NANDroid backup file from our requirements.
If you have comments or want to ask us something, kindly use the comment section below.