How to Install Jelly Bean 4.3 XXUGND3 on Samsung Galaxy S3 I9300
Galaxy S3 I9300 is supposed to have Android 4.3 Jelly Bean if you want to see better performance and other benefits. You will learn how to get this operating system on your device today!
The Galaxy S3 GT-I9300 is introduced to this new firmware in our guide: Android 4.3 XXUGND3. It was released for your phone last month. And it's only suitable if you like in the UK and use H3G as carrier. If flashed on a smartphone with another name, the update won't work afterwards and your device will even be affected.
There are some things you should know when updating a rooted phone. The device's root access is going to be revoked. Its system partition will also be affected, in the sense that it will end up erased from your handset. Your important data will stay safe, as will the following: the internal and external SD cards.
The XXUGND3 has its KIES logo activated. Thanks to this, KIES is one of the methods you can use for today's upgrade. However, use this option only if the phone has stock ROM.
If you aren't aware with the new OS, we will tell you what goodies to expect from it. To start off, your Samsung I9300 will end up with plenty of fresh new applications to choose from. After that, your phone will get new features and tweaks to customize it with. The smartphone's battery life will receive improvement so that you can use the device longer than usual. The update doesn't have security problems to annoy you with.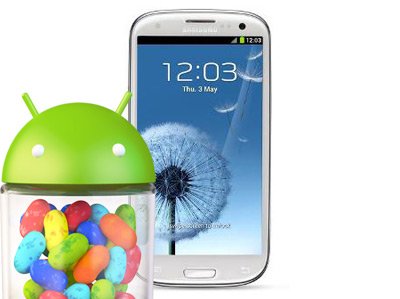 Prerequisites
As for what requirements you must perform, below is the list we made for you:
one or more backups must be generated so that no important data is damaged while performing the upgrade;
a full NANDroid backup has to be created afterwards;
your Galaxy S3 I9300 must be running with a fully charged battery;
download, on the laptop, USB drivers compatible with your smartphone;
Windows is needed as an OS on your laptop;
go to your notebook and turn off, on it, the security software;
your notebook's security solutions must also be deactivated;
go to your phone and make sure USB Debugging is activated.
Step by step instructions
Time to have a look at the first step. It tells you to download the on the laptop. It also asks you to download another file there: Odin v3.09. As always, the packages just downloaded have to be unzipped. This is a job for either WinRar or 7Zip.
Odin v3.09.exe must then be open on your notebook, so do that, after which you have to restart the phone in Download Mode. Do it by following these indications: simultaneously press and hold Home, Power and Volume Down until the screen has a boot message on it, then press Volume Up.
Your laptop and the smartphone need a plugging now. To connect the two, make use of the USB cable belonging to your Galaxy S3 I9300. When the phone's recognized by Odin, a sign in blue will be launched. The devices are plugged accordingly to one another now, so add the firmware file to AP / PDA.
Activate, now, Auto Reboot while leaving Re-partition unchecked. You should also do this: check F. Reset Time. "Start" will have to be tapped so that the installation of the update firmware begins as planned.
After waiting for no more than 10-14 minutes, the Samsung GT-I9300 will have the XXUGND3 for you to enjoy. The success of this flashing is shown by "Pass" first; second, your smartphone will automatically start again.
After the device has started once more, you have to unplug it from your laptop. Do this by grabbing the USB cable and removing it from the devices.
[sc name="banner-jos"]After doing as instructed, the new OS is one step closer to revealing its goodies. Enjoy all of them after doing the following: tap Settings and afterwards About Phone.
If the Android 4.3 JB is something of a letdown, the previous ROM is ready to come back should you want that. This process will be helped by the NANDroid backup file. Go to it, use this file and you'll be able to enjoy that ROM from now on again. The update process will, unfortunately, be revoked from the smartphone.
We advise you to use the comment field below. There you can leave your questions in case you have issues with the procedure.