Update Galaxy Note Pro 12.2 SM-P905 to KitKat 4.4.2 XXUANB4
There's a very easy way to bring Android 4.4.2 KitKat on Galaxy Note Pro 12.2 SM-P905 and that's through an update. The firmware that's perfect for this job came out at the end of February. Let's find out how to install it on your gadget!
Before we get to the flashing part, some details on the new official firmware. Its name is XXUANB4 and it works only on your Galaxy Note Pro 12.2 SM-P905 in Croatia (both on T-Mobile and VIPNET). There's no way you can use KIES for the update. Instead, you can choose between our tutorial or OTA (over-the-air) via a Software Update button located under the phone's Settings menu. But if you go for the OTA way, your tablet should have stock ROM installed on it.
When the right model is used, the update will let you enjoy a more stable gadget couple with new features to try out. Also, your device will be capable of lasting more thanks to several battery tweaks. You will no longer see the app called App Ops and you will be able to personalize your tablet in new ways. The performance will improve loads and new apps will be available for you to use.
In case you're working with a rooted Galaxy Note Pro 12.2 SM-P905, the XXUANB4 will revoke root access. The new firmware will also delete your tablet's system partition, but the internal and external SD cards will be left alone, as will the data stored on your gadget.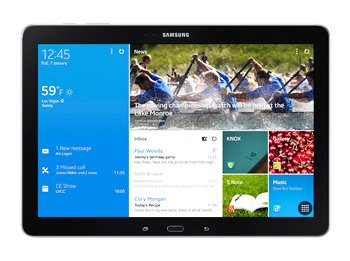 Prerequisites
The next step to go over is made of these requirements:
after you open your notebook, make sure to turn off its security programs;
open the tablet and do the same with its security programs;
download USB drivers for the tablet on your notebook from this page;
a laptop with Windows is the best tool to use;
create regular backups, then a full NANDroid backup, using this guide;
charge your tablet;
enable USB Debugging on the Galaxy Note Pro 12.2 SM-P905.
Step by step instructions
What follows the above is the guide's first couple of steps.
Keep your laptop open and download Odin v3.09 from this location and the Android 4.4.2 KitKat XXUANB4 official firmware for Croatia on it. The T-Mobile version , while the Croatia VIPNET firmware is .
The packages you downloaded on the laptop must be extracted, an operation which requires WinRar or WinZip. Then stay on your laptop and launch the Odin v3.09.exe there.
After that, time for entering your tablet in Download Mode by using certain buttons. Here is the full explanation: after you simultaneously press and hold Home, Power and Volume Down, you have to wait for the arrival of a boot screen on the display, after which you should press Volume Up.
Create a connection between your tablet and the notebook next; here is where the tablet's USB cable comes in to help make that connection.
You will know for sure that the plugging worked if you see a blue sign appear in Odin. Once that's done, we recommend the following: add the firmware file to AP / PDA.
After this is over, check F. Reset Time and Auto Reboot, then be sure to look and see whether Re-partition is checked; if it is, we suggest deactivating this box. Now you should tap "Start". The new firmware will then begin its installation phase on your tablet.
We recommend waiting for around 15 minutes next. Once these 15 minutes are up, the tablet is going to to display this message in green: "Pass".
As soon as you see this particular message, you need to do this: wait for the gadget to restart automatically. At the end of the rebooting, you need to disconnect the Galaxy Note Pro 12.2 SM-P905 from the laptop.
[sc name="banner-jos"]After you've removed the USB cord from the latter, keep the tablet open and select Settings. Next option to tap: About Tablet. You have to do this so that you can open the XXUANB4 for your device and use it.
After you see how it's like to have an updated tablet, you can either keep the firmware or revert to the former ROM. If the latter's what you want: open the NANDroid backup file. After you use it, the upgrade process will be revoked from your tablet.
Are there things you don't understand about the update? You can leave your questions or comments in the field below.