How to Update Galaxy Note GT-N7000 to Android 4.1.2 XXLTD
Do you want to upgrade your Galaxy Note GT-N7000? It's easy. You will see just how easy it is if you join us today for a tutorial.
The Galaxy Note N7000 is not far from giving its best performance yet. This smartphone is compatible with the latest official firmware issued this month: Android 4.1.2 Jelly Bean XXLTD. This tool that we're using for your device's update came out for Australia (Optus). Keep in mind that this is the only device which works with the new firmware. Installing the XXLTD on a different gadget will eventually brick it.
The firmware sports a KIES logo which is turned on. Which means the following: Samsung's KIES can upgrade your handset easily. There's a catch: this method is only available for a smartphone which has stock ROM. In case your own device doesn't have something like this, you can make use of this guide.
The novelties
Your phone will gain loads of benefits by being upgraded. Having the new firmware on it means a free style widget and extended Vsync timing. An update also delivers pop up play, Google Now and a new keyboard. Other goodies: all share, group cast and touch anticipation. They're not the only pros: your phone's going to also enjoy a fixed frame of 60 fps. As well as triple buffering, mini apps and sync and connect email updates. Finally, there's automatic adjustment for the size of widgets to look forward to.
For those of you who have the rooted Samsung N7000 version, here's what to know before you upgrade it. The device's root access will be revoked. This isn't the only disadvantage: system partition will be deleted. What won't be affected are the internal / external SD cards. Also, the smartphone's important data will be saved from damage.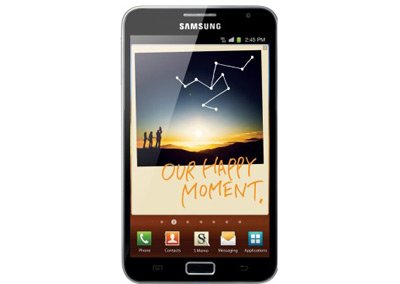 Prerequisites
To begin the guide well, certain requirements are needed. Find them below and follow them:
the notebook must have Windows already running on it;
enable, on your Galaxy Note GT-N7000, USB Debugging;
disable the security programs that come with the phone;
also make sure the ones inside the laptop are turned off;
there needs to be a full battery running inside the smartphone or you'll end up with not enough power to complete the procedure;
go to this location and download, on your laptop, USB drivers for the handset;
after you're done creating a standard backup, create a full NANDroid one.
Step by step instructions
We will continue with the steps that'll quickly land the necessary update tool on your phone.
Here's the first one: download Odin v3.09 from this page and the on the laptop. Next thing to do: unzip them with WinRar and open Odin v3.09.exe on your notebook.
Your smartphone will need to enter Download Mode, so press and hold, at the same time, Home, Power and Volume Down; if a boot message is on the display after a short while, press this button: Volume Up. Your phone will be in the necessary mode after a couple of minutes.
Take a hold of the USB cable of your Galaxy Note GT-N7000. This is the tool which you have to use in order to create a connection between your phone and the notebook. Odin is the one which will indicate a successful plugging by revealing a blue sign.
Add the firmware file to the AP / PDA when the devices are connected. You should activate Auto Reboot next. After that, activate another box; its name is F. Reset Time. Re-partition is another important box; this one must be unchecked, though. Look for "Start" now and, when you find it, tap it.
You can now sit back and wait for the update firmware's flashing to be over. This is a procedure which will take approximately 15 minutes.
[sc name="banner-jos"]A message reading "Pass" will very soon make its way on the screen to let you know that the flashing's completed. The smartphone should restart afterwards. Remove the USB cable next, then tap Settings and About Phone.
If you are not pleased with the update, the NANDroid backup file is always ready to retrieve the old ROM. The thing is, this sort of process revoked the phone's upgrade.
You have a comment box under this tutorial. Use it in case you have questions to ask us regarding the procedure.