How to Update Galaxy Note 10.1 SM-P607T to KitKat 4.4.2 UVUANDA
Galaxy Note 10.1 SM-P607T is offered, by new firmware, the opportunity to enjoy Android 4.4.2 KitKat. And not just any way, but via an update. There are steps to be followed, so stay tuned to learn all about them and the procedure.
USA is the very first region to use UVUANDA for the update of the Samsung SM-P607T. If the tablet's using T-Mobile and its name is the one we mentioned previously, you're almost ready to perform the upgrade. We say that because there are some other things to be done before applying the new firmware. First of all, there's the problem of updating a rooted device. The main issues are these: your tablet will remain without root access and the system partition will be erased from it.
The tablet will not, however, end up with its important data or its internal / external SD cards deleted. But another problem is that KIES is not a viable update solution. The firmware responsible for today's procedure has its KIES logo turned off. If your tablet comes with stock ROM, OTA can be used. If the gadget's devoid of this particular ROM, our tutorial offers the right alternative.
Once you're done installing the new firmware, your tablet will rejoice in many new elements. To note just a few: you'll gain customization tweaks, new features and options to improve the general performance. The usual bloatware will no longer be present and the battery in particular will last more. A lot of new applications will also become a part of your Galaxy Note SM-P607T.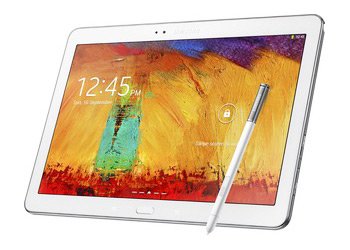 Prerequisites
Without further ado, here are today's requirements:
go to your notebook first;
download, on it, the ;
download Odin on the laptop as well;
the only OS your laptop must have on it is Windows;
all of those programs which offer their protection from security problems must be turned off on your tablet;
the programs performing the same as above for the laptop need to also be disabled;
activate, on the Galaxy Note 10.1 P607T, USB Debugging;
your laptop is required to have USB drivers for your tablet downloaded on it;
protect your tablet's data by creating backups;
a full NANDroid backup needs to be created;
the battery running on your tablet has to be fully charged.
Step by step instructions
With the two packages currently downloaded on your laptop, the upgrade can begin.
Save the Odin v3.09 and the update firmware on your notebook, then extract them. After WinRar unzips them both, Odin v3.09.exe will need to be launched on the previously used device.
Consider doing this in order to restart the tablet in Download Mode: press and hold, simultaneously, Home, Power and Volume Down. A boot message appearing on the screen tells you that it's time for this: press Volume Up.
With the tablet in this Download Mode, make sure this device and your laptop are plugged to one another with your tablet's USB cord. After successfully finding the gadget, Odin will soon have a blue sign to unveil.
That being the case, you'll see that the connection's been established between your tablet and notebook. Do the following now: add the firmware file to AP / PDA and make sure Auto Reboot is checked.
Once F. Reset Time is also checked, look for Re-partition and uncheck it. Move on to the installation of the UVUANDA, which means that "Start" has to be tapped to begin this firmware's flashing.
In a very short while – after around 13 minutes -, "Pass" will pop up. After you see it displayed in a green background, the tablet will complete this step by rebooting.
Take the USB cable out in order to unplug the Galaxy Note 10.1 SM-P607T from your laptop. When both of your products are disconnected from each other, you have to take a look at the newest Android 4.4.2 KitKat.
[sc name="banner-jos"]To open this, tap Settings and after that do this: tap About Tablet. You will have to wait for a very short while before the new OS appears on the display. As soon as it does, though, you'll be able to savor every novelty we detailed above.
Remember the NANDroid backup file? You can use it if you want the tablet's previous ROM restored. The bringing back of the former ROM translates into a revoked update process.
Below this post is a comment section. If you have questions for us, be sure to use it!