How to Update Galaxy Mega 6.3 GT-I9205 to Android 4.2.2 ZHUCML4
If you live in Hong Kong and want to upgrade your Galaxy Mega 6.3 GT-I9205 to Android 4.2.2, we found the perfect tool. More precisely, new firmware going by the name of ZHUCML4. And we wish to share with you the method of updating your phone with its help.
For all of you interested in the update, we have just the steps to help you. Before we reveal them, we must ask you to never upgrade a different model with our tutorial. If another smartphone is used today, you will eventually brick it. Also, if your Galaxy Mega 6.3 I9205 has already been rooted, expect the following: the system partition shall be deleted and root access will be revoked. These are the two major cons you'll encounter. The important data won't disappear from your handset, though. The internal and external SD cards are also going to be preserved.
To perform the upgrade, you can also use Samsung's KIES because your phone sports an activated KIES logo. We must warn you of the following: only a Galaxy Mega 6.3 GT-I9205 with a stock ROM must be used for this method. You won't have to sport such a model if you're using our guide.
The novelties of the ZHUCML4 are made of a new set of download notifications, a USB debug white-list and a new Gallery app with superior speed when loading. But wait, there's more: the possibility to long-press the WiFi and Bluetooth icons in Quick Settings so that you can easily toggle the on/off state, low battery bug fixes and a new set of sounds for wireless charging. If you're worried about bugs with the Bluetooth audio streaming: they don't exist on this version.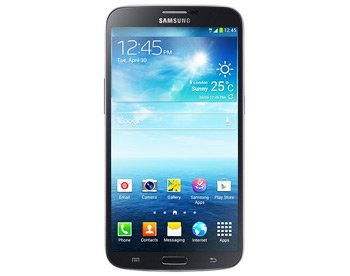 Prerequisites
You should now take a look at the requirements below:
download USB drivers for this handset on the laptop;
it's best to have USB Debugging enabled on your smartphone;
several backups are recommended so that the data is saved (a full NANDroid backup should be created, as well);
your phone's battery needs to be fully charged;
Windows should be the notebook's OS;
download, from this page, Odin and the Hong Kong version of on your laptop;
all the security programs featured on the notebook and the handset must be disabled;
follow the steps below!
Step by step instructions
For those of you who are ready for the first step, we suggest starting it by extracting the two packages. The unzipping should be helped by either 7Zip or WinRar.
When done, enter the Galaxy Mega 6.3 GT-I9205 in Download Mode like this: press and hold, simultaneously, Home, Volume Down and Power. Once a screen of warning pops up, do this: press Volume Up. And you're done.
Continue by opening the Odin as an Admin on the notebook and then plugging the smartphone to your laptop. In case of an unsuccessful plugging, you should attempt the following: use another USB port this time or flash, again, the USB drivers.
Move on by tapping BL, opting for a file with BL in the name, tapping AP, choosing a file with AP in the name, tapping CP, choosing a file with CP in its name, tapping CSC, selecting a file which has CSC in the name, clicking on PIT and choosing a file with an extension that has .pit in it.
Soon you will come across some boxes; out of them, activate only these 3: F. Reset Time, Auto Reboot and Re-partition. Your next task tells you to begin the flashing of this official firmware.
The installation will need to happen like this: press "Start" and wait. When the end is near, the handset will do this: it shall reboot and then you will see "Pass" appear on the display.
[sc name="banner-jos"]You now have to perform this action: unplug the Galaxy Mega 6.3 GT-I9205 from your laptop. The ZHUCML4 firmware can be launched via this short guide: tap Settings and after that tap About Phone. Go directly to the new firmware when you're done.
You need to do this so that you can personally test all the new features. And check if you really like the update. If you discover you don't and you miss having the old ROM on your smartphone: restore it with the NANDroid backup file.
Do you have questions about the update? If you do, you can leave them below.