How to Install Android 4.2.2 XXUANA3 on Galaxy Tab 3 10.1 LTE GT-P5220
You will have to use XXUANA3 if you want an updated Galaxy Tab 3 10.1 LTE GT-P5220. This particular firmware came out for Ireland not too long ago. If you learn how to install it on your tablet, you will encounter many benefits!
The new update file can be installed only on the Galaxy Tab 3 10.1 P5220. If this firmware's flashed on another tablet, you will brick it sooner rather than later. Android 4.2.2 will become available as soon as the new firmware is featured on your gadget. So will its many goodies.
The XXUANA3 Ireland (Vodafone) version for your tablet should be downloaded on your notebook from this location. Then you will have to follow our tutorial to find out what to do from here on.
The novelties
Once the update's completed, your device will enjoy a USB debug white-list, low battery bug fixes, not to mention a new Gallery app. Your tablet will also have these goodies: several tweaks to customize it and a new set of download notifications. You will also be offered the possibility of long-pressing the WiFi Bluetooth icons in Quick Settings in order to be able to toggle the on/off state. The gadget's Bluetooth audio streaming will perform loads better and you will get access to a new set of sounds for wireless charging.
If this update is performed on a rooted gadget, you will have to handle some repercussions. Root access won't be present anymore and the tablet will end up with a deleted system partition. The internal as well as external SD cards won't have to suffer; neither will the tablet's important content.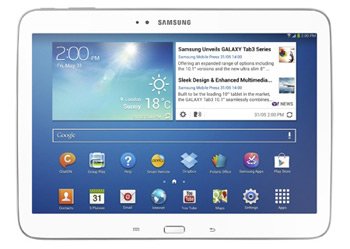 Requirements
If none of the disadvantages presented above scares you, then get ready for these pre-requisites:
always create a full NANDroid backup after you create a standard one;
the security programs running on your Galaxy Tab 3 10.1 LTE GT-P5220 must be deactivated;
your tablet's battery needs a recharge;
the same goes for the security software featured on your laptop;
USB Debugging is an option which must be turned on;
your notebook should have USB drivers for the tablet downloaded on it;
your laptop's operating system should be none other than Windows.
Step by step instructions
If your laptop already has the downloaded on it, you should go here and find Odin v3.09. Download it on the notebook, too, then unzip the two packages. The most useful tool for this is either WinRar or 7Zip.
When you picked between the tools and extracted the packages on your laptop, do this: open the Odin v3.09.exe and make sure that you enter your tablet in Download Mode.
The previous task should be done this way: press and simultaneously hold Home, Power and Volume Down simultaneously, let go of them as soon as a boot screen is displayed and then press only Volume up.
After that, establish a connection between the tablet and your notebook with the aid of the USB cable belonging to the Samsung GT-P5220.
A connection will happen after a sign in blue gets displayed by Odin. After the plugging is achieved, we recommend getting the firmware file from its original location and moving it to AP / PDA.
When you're all done with the moving, you should do as follows next: wait until a group of boxes appears on-screen, then check only two of them. They are called Auto Reboot and F. Reset Time. If you see that a box called Re-partition is ticked, uncheck it before tapping "Start".
The tapping of "Start" means that the new firmware is ready to be installed on your tablet. The procedure won't take longer than 10 minutes, so wait.
You will be done with the waiting when "Pass" comes up on the touchscreen of your tablet and the latter automatically restarts. The last step you need to follow next recommends you to disconnect the tablet from the laptop next.
[sc name="banner-jos"]If you're done with the unplugging phase, time to enjoy the new firmware. Launch it by tapping Settings on your Galaxy Tab 3 10.1 LTE GT-P5220, then going to About Tablet and tapping this option, as well. If you've opened the XXUANA3 by now, give it a try to see if it is everything you wanted.
In case it's not and you want to use the old ROM again instead of the new firmware, there's a way. Use the NANDroid backup file and the ROM will be restored asap. By having the former tool back, however, you will lose the update procedure.
In case of questions, use the comment section below!