Update Galaxy Mega 5.8 GT-I9158 to ZMUAMI3 Jelly Bean 4.2.2 stock firmware
Today we want to partner your Galaxy Mega 5.8 I9158 (Chinese version) with Google's latest Android 4.2.2 operating system via a procedure known as an "update". We recommend you to use only this handset; so don't attempt to use our guide for any other model, because you are going to end up bricking the firmware the other handset comes with.
The firmware we base this tutorial on is Jelly Bean 4.2.2 ZMUAMI3. This tool is only compatible, like we said, with the Galaxy Mega 5.8 GT-I9158 that was launched in August this year. The new stock firmware was launched by Samsung in November 2013, so it's recent and does wonders to your smartphone. But first things first: as soon as you apply the update on your handset, the latter will have its root access revoked, but the actual firmware will not delete any files from your smartphone. Also, should your smartphone be rooted and featuring a custom ROM, you will be able to upgrade it, but the device's system partition shall be wiped in the process. Even so, its internal / external SD cards aren't going to be affected by the upgrade.
Our tutorial can be used to install the newest stock Android 4.2.2 ZMUAMI3 update in case your phone is running a custom ROM and you can't look for updates using KIES or OTA (over the air) method via the Software Update button located under Settings menu. If you want, you can always try to make use of the Samsung KIES and check for the update on your own. However, this method will work only for those devices which are already running stock ROMs.
Once your Galaxy Mega 5.8 I9158 is flashed with this new firmware, you are going to be exposed to the following (and more): a longer battery life, an enhanced performance, stability, new apps and features, excellent speeds, new custom ROMs, tweaks to personalize your handset and no bugs.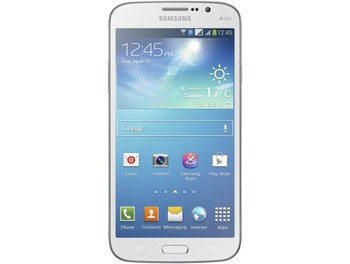 Requirements
To explore all of this and more, we recommend these requirements first:
keep the phone's USB cable close;
make backups (apart from a standard one, create a full NANDroid one, as well);
turn on USB Debugging;
turn off, for this guide, the security software which provides protection for your smartphone and your notebook against bugs and such;
check the charge level of your handset and, if it's low, fully charge your device;
use a notebook or com which ships with Windows OS;
install from this page on your notebook or PC, USB drivers that work with the handset.
Instructions
The beginning of the update should not happen yet. You still have to download these files on your laptop: Odin tool v3.07 from here and the new Jelly Bean firmware from . Only after you saved these two on your device can you begin the actual upgrade by unzipping both the Android 4.2.2 ZMUAMI3 and the Odin on the same laptop.
And so, here is how we want you to start the update: take the two packages and unzip them with a fitting tool. Once the content of the two is safely stored on your notebook, we want you to do this: enter the Samsung I9158 in Download Mode.
To enter this particular mode, all you have to do is hold Volume Down and Home at the same time while pressing Power.
When the Download Mode appears, you should do the following: plug the handset to the laptop with the USB cord; the two will establish a connection only if a yellow ID:COM box will be displayed along with this message: "Added!!". If the connection fails to happen, it's best if you either install the USB drivers again or use a different USB port.
After this, we advise you to click on PDA, then do the following: opt for a file sporting CODE in the name, continue by clicking on Phone and choosing a file with MODEM in the name, move on to the CSC option and then opting for a file with CSC in the name, tap PIT and end by selecting a file that should have a .pit extension in its name.
Now that you are done with this step, you need to wait until you spot some boxes, then check them; here they are: F. Reset Time, Auto Reboot and Re-partition.
[sc name="banner-jos"]The firmware will be installed on your phone as soon as you press "Start" and wait for the process to finish. Once the handset has "Pass" written on its touchscreen and it reboots soon after, the upgrade firmware will have been flashed on your handset. Which firmware will be present in "About Phone" after you tap "Settings".
Should the Galaxy Mega 5.8 GT-I9158 look unappealing with the new official firmware and there's a NANDroid backup file on your device, you can revoke the update process by using that file.
If you happen to experience issues while upgrading your smartphone, you can leave comments in the field below!