How to Remotely Shutdown your Android-based phone via a single SMS
If interested in how to shutdown your Android-running smartphone, you can do so via SMS. To find out how that works exactly, you should be all eyes on this tutorial.
Its steps are the ones which are going to tell you what you need to hear. So stay tuned and find out how they sound like below.
Requirements
The only two requirements which we ask of you to check out before you commence the tutorial are these: root your Android handset with a dedicated tutorial (we have many on our own site) and then charge its battery to avoid the device stopping when you're in the middle of this guide later on.
A rooting of your smartphone must be done so that you can enjoy custom ROMs and root-only apps among many other advantages. Besides that, your device will, if rooted, deliver a superior performance on all accounts (battery life included).
So be sure to root the phone and then proceed to the steps on how to remotely shutdown your smartphone with the help of text messages. If you want to check out if your device is rooted, there is an app called Root Checker that will do it in your place; the app is located in Google Play Store as usual.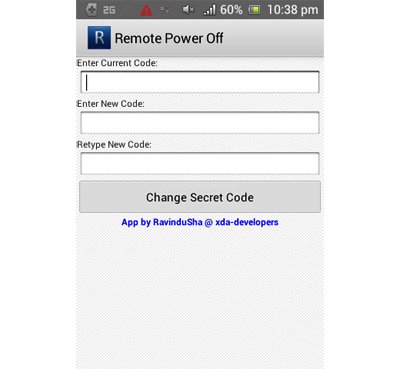 How to switch off your phone using a SMS
For the first step that is part of our guide today you need to download the following app on your notebook: .
Then, after you just completed that task, you should also plug the smartphone of your choice to your laptop; what you need to use for this is the USB cord which comes with your handset in the same package. After the devices are connected among each other, you have to send the app's zip file from your laptop over to your phone, which is going to be its new home from now on.
Once those couple of steps are performed, you will be asked to continue with this: unplug your smartphone from your personal computer.
After the two are connected to one another no more, it's best to just power the handset off. Then we recommend you to simply boot the phone into Recovery Mode for the next task; another way of booting the phone into that mode is by using the app known as ROM Manager.
If the Recovery Mode is now open on your device, you should do the following: opt for Install zip from SD card.
When you are done, perform as follows: choose the zip archive that belongs to the Remote Turn off app ad wait for it to be installed on your handset.
[sc name="banner-jos"]After you see that the flashing of the package is over at last, you should go ahead and choose +++++Go Back+++++. Afterwards, your next task will be this one: opt for the phone's restarting option.
The phone shall be able to quickly reboot; it will all take no more than a matter of seconds. Which can only mean this: follow that task up by launching Set the Code app on your handset. For now onward, the code that you want to set needs to be remembered by you; the latter info is very important, because otherwise this guide would have been in vain.
Now you can see how your Android-based phone can easily be turned off remotely with SMS. If any issue troubles you, tell us below!