How to Root Motorola DEFY+ MB526
Your Motorola DEFY+ MB526 shall soon face root access. The road to having this land on it isn't difficult. Stay connected to this guide for more!
As always when a rooting is involved, your gadget has to involve a helping tool. We chose, for your phone, this: SRSRoot. The latter has many aces to reveal after it is featured. It was high time your 3-year-old smartphone received root access. Its 1 GHz Cortex-A8 in particular needs a rooting. The latter will most certainly let you experience a better moving CPU. This together with the novelties you'll also read about come for free.
The advantages of this procedure
Before we tell you other things about the SRSRoot app: you need to decide on a Build ID. Once you do, feel free to use it. This dedicated app is a tool that's always fine with your choice of a Build ID. But if you want, there's this one you can turn to: 4.5.1-134_DFP-89; we used it and everything went well.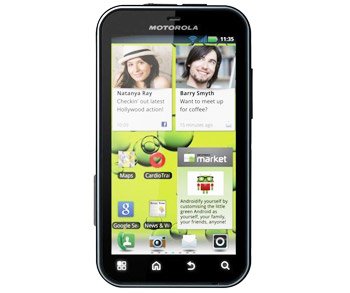 Android 2.3.4 has been selected as your phone's OS. This is a version that works with the app very well. In fact, none of the Google Android variants is refused by the SRSRoot. The freeware includes all sorts of customization options. A bunch of useful root-only apps and custom ROMs will also hang out on your device. Superuser permission as well as an admin one get brought in, too. Battery life is improved via tweaks. Moreover, new features are delivered by the freeware. Also, the app is powered by an SRS Server.
Using the SRSRoot as an unrooting method is very much possible. Root access comes free of bloatware and security problems. What's there more to say about the app? Just that it is available for many gadgets using different names.
Should you want to upgrade the rooted Motorola DEFY+ MB526, the root access will have to be revoked. Nothing of importance will happen to the phone's important data. The update leaves its internal and external SD cards without a scratch. But this procedure deletes the system partition.
If you're thinking of rooting the Motorola DEFY Plus, you'll have to find a guide for its warranty. That's because the latter is revoked after root access hops in.
Prerequisites
We'll be needing you to take a good look at our requirements:
USB drivers must be downloaded from this place on your notebook;
then flash them on it;
USB Debugging, which is on your phone, should be turned on;
a set of standard backups is going to be necessary, as such create those;
generate a full NANDroid backup when you are done;
Windows should be the only operating system on the notebook;
its security programs have to be disabled at once;
the smartphone also boasts those, so have its security programs deactivated;
the battery unit which belongs to yout handset should be charged until it's full.
Step by step instructions
These being done, concentrate on the steps which make the root access available.
Facing you now is the first step. It should happen as such: download the SRSRoot app on your notebook. To locate this tool's whereabouts, you need to click on this link.
Once the page comes out, you will face a download button. It is there to allow the app to land on the notebook; so click on this button at once.
The download should be followed by this next step: install the freeware on your notebook. Then do this: tap Menu and Settings.
Unknown Sources has to be tapped as well. Simply look under Settings and you will spot this option there. The step to come up now suggests you do the following: enable USB Debugging.
You aren't required to tap it if you managed to do it before. The USB cable belonging to the Motorola DEFY+ MB526 should now be used. Its role is very important; it will enable a connection between the notebook and phone.
Once this is successfully established, you will have to root the handset. Actually doing that at last needs the device's owner to tap this: Root Device (All Methods).
[sc name="banner-jos"]Wait for a bit now; this procedure is about to be done in 15 minutes or less. If it isn't done, you need to have the steps repeated.
After you complete this important part, you should make sure the handset reboots. For your gadget to start again, you are asked to do this: activate Reboot System Now.
The Motorola MB526 will then automatically do what is needed of it. Once that's so, the device will give you access to the stuff it's just added to its list.
Are you having issues while rooting the smartphone? They can be solved if you use the comment section underneath.