Install XXEMD2 Jelly Bean 4.1.2 Official Firmware on Galaxy S3 I9300
Your beloved Galaxy S3 I9300 is armed and ready for the trip of a lifetime: an update to Android 4.1.2 JB via XXEMD2 official firmware. This is possible only by focusing on this guide that will first start with some very necessary pre-requisites.
But first: some features that you will run into after the end of the tutorial. Here they are: brand new gallery app, an improved way of input in Samsung Keyboard and the rest is your to discover.
Requirements
Let's return to those requirements we we told you about in the first paragraph. They sound like this:
the option labelled USB debugging should be turned on;
the Galaxy S3 GT-I9300 needs to be factory unlocked;
the battery of the handset must be fully charged;
you have to gather the data from your smartphone and save it as a backup, because you may lose it if the guide goes wrong on you;
last pre-requisite: find the USB drivers that belong to this handset and flash them on your laptop.
Before you get the XXEMD2 on your smartphone, you have to know that you are going to need to root your device one more time. Only so will you regain root access to your Galaxy S3 I9300.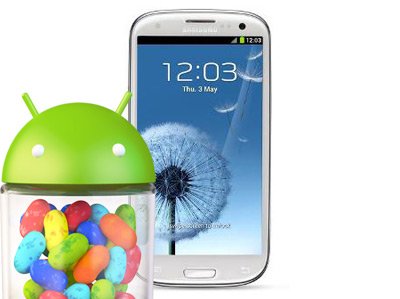 Important instructions
So, here we go with the necessary actions that will update your phone to the Android 4.1.2 Jelly Bean.
Behold the two zip files that you must download on your laptop: and Odin tool. The zip file which should be unzipped afterwards is the first one we mentioned.
The second you see that the files in that archive are extracted, you need to power the handset off and boot it into Download Mode via these instructions: press and simultaneously hold Volume Down, Home and Power; wait for the Android logo to appear and then press Power. This way, the Galaxy S3 GT-I9300 will indeed be in the Download Mode.
Having finished the tasks we just discussed, you should launch, on your PC, the Odin tool. Now that the Odin is open, you have to take every measure to plug your smartphone to your laptop; an ID:COM box is going to shortly become yellow and you will also see a number (the COM port) to go with that, which means that the connection didn't encounter issues.
And now you should go for the files we will tell you about in the next paragraph:
– click on PDA and choose a file that also has CODE in its name;
– the second you click on Phone, you need to look for a file that has MODEM in its name and select that one;
– click on CSC and opt for a file which has CSC in its name;
– click on PIT and choose a file that will be shown as .pit.
[sc name="banner-jos"]The guidelines need to be ignored if you see none of the files we mentioned. After these instructions, you need to continue with the following: select F. Reset Time, Auto Reboot next, then Repartition if you opted for the .pit file. And, while you are still in Odin, you'd better tap on Start if you want to see the XXEMD2 official ROM flash on your S3 I9300.
Then, when the installation ends, the device shall restart. Disconnect it from your notebook once you see that it gives you its home screen. Now hop on over and start using the updated Android 4.1.2 Jelly Bean.