How to Root Galaxy Y Pro GT-B5510B
Once your Galaxy Y Pro GT-B5510B gets root access, you'll be offered what you were missing out on. The novelties your smartphone is going to deliver will turn it into something worth having. So get ready for a guide that'll tell you what to do in order to gain root access!
SRSRoot tool is needed for your device. To root the latter without problems, this software will have to be installed on your Galaxy Y Pro B5510B. If you're up to that, you should prepare your phone. Make sure you use the right model. It should be the one with an 832 MHz CPU and Android 2.3.5 Gingerbread. Your device is also known as Galaxy Txt and it came out almost 3 years ago.
You have the possibility to get root access via the SRSRoot tool via several steps. They're not hard to follow; and the new software isn't difficult to install. There are many pros coming your way if you use this tool. For starters: your handset will receive both superuser and admin permission.
The benefits
With the help of this software, this smartphone is going to have both custom ROMs and new features. Likewise, you'll gain customization options and root-only applications. The battery won't last as little as it usually does.
This special tool is able to unroot your device if you want to. And it's completely powered by SRS Server. Our Build ID for today's procedure is the following: GINGERBREAD.VSKJ1. But you don't have to necessarily use it; a different Build ID will also work for your phone. The Android version your device currently uses won't be erased; this software is compatible with it.And it's compatible with many other versions, as well as device brands.
You will experience some issues if you use this method to root your handset. The latter will have its warranty revoked. But there are other cons to expect if you ever upgrade your Samsung GT-B5510B. System partition, for one, will be deleted. After that, your handset will lose its root access. Nothing of the kind will happen to its important data or internal / external SD cards.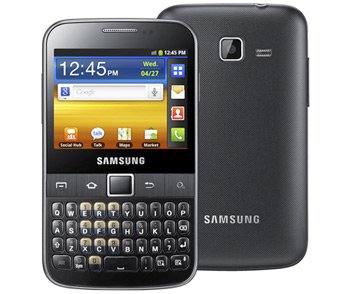 Prerequisites
To make sure you won't encounter problems while rooting your device, some pre-requisites are now due:
a set of regular backups must be created for your handset's data safety;
create a full NANDroid backup when done;
the phone's USB Debugging option needs to be activated;
your laptop's operating system will have to be Windows;
install, on the laptop, those USB drivers that work with this handset;
turn off the security programs enabled on the Galaxy Y Pro GT-B5510B;
disable the ones running on the laptop;
your smartphone's battery must be fully charged for this procedure.
Step by step instructions
When the smartphone is all ready for the today's tool, you should begin the steps presented below!
This is the first step: download the SRSRoot software on the notebook you use. But you should get this tool from this location. If you go somewhere else, you'll end up with a tool that contains viruses and the like.
After you're on the page we recommended, click on a download button you'll notice there. Install the said file on the notebook.
After you open it, make sure you enable Unknown Sources. This option is situated under the one known as Settings (which can be accessed after you tap Menu on the phone).
Turn on USB Debugging afterwards. However, if you already activated this option, establish a connection between your phone and laptop.
The plugging should be generated with the USB cable belonging to your handset. When this cord starts doing its job, you'll need to wait until the connection's achieved.
[sc name="banner-jos"]The second it is, you have to do this: tap Root Device (All Methods). Once the activation of this option is done, you'll have to wait one more time.
After your handset is rooted, you will need to make sure it reboots. When the Galaxy Y Pro GT-B5510B starts again, the rooting will have finished.
You're now allowed to have a go at the improvements brought on by the SRSRoot software. If they're not great, you'll have to unroot your smartphone. There are many possibilities of doing that. The today's tool is one of them.