How to Root Galaxy Chat GT-B5330
Galaxy Chat GT-B5330 is fit for a rooting session. If done correctly, the smartphone is going to deliver stuff you've always dreamed about. Among that: superior battery. Find the whole range of goodies in today's tutorial!
To be able to improve many things about your device, including its performance, you need rooting material. We recommend using SRSRoot, a tool that delivers on what it promises. And that includes loads of tools to improve performance, how your phone feels, novelties and much more.
If your phone's rooted with this method, you'll have access to root-only apps. Apart from that, your handset will experiment with new features and custom ROMs. This tool offers the owner of a gadget the following: admin and superuser permission. You'll be spared security problems.
The benefits
When a device is rooted via this tool, the user of that gadget will be able to unroot it via the same method. The software is powered by SRS Server and it doesn't work with only one Android version. Which means that your phone's Android 4.0.4 OS will not be deleted from it if you wish to have a rooted handset.
The kind of Build ID we chose for this procedure was IMM76D.B5330XWALI4 (XWALI4 official firmware). Even if we selected this one, you can always root your phone with whatever Build ID you prefer. The SRSRoot offers compatibility for many. And it also works well with various brands.
If you really want to end up with a rooted Galaxy Chat B5330, you'll have to put up with some drawbacks. For example, you'll have to say goodbye to your phone's warranty. You will also have to part ways with its system partition and root access should you upgrade it. Your handset will no longer have these, but it will keep the following: its crucial data and internal / external SD cards.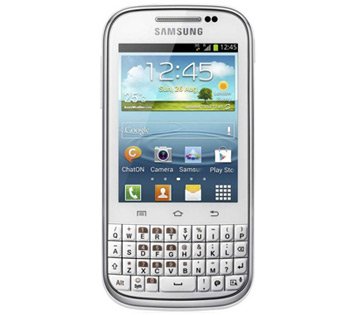 Prerequisites
For those of you still interested in a rooting even after knowing what this procedure means, we have these pre-requisites for you:
one or more regular backups are required for the data on your Galaxy Chat B5330;
a full NANDroid backup is also needed;
go to USB Debugging on the handset;
turn this option on;
download USB drivers compatible with the smartphone on your notebook;
turn off the security programs used by the notebook;
you will also have to go to the ones on your phone and turn them off;
take a look at your handset's battery and charge it if that's what it needs;
Windows must be the only OS incorporated on your notebook.
Step by step instructions
For your first task, we suggest opening this web page. It contains the link to the SRSRoot software. Click on the download button you'll come across there. As soon as you do that, the software will be downloaded on the laptop.
You'll then be able to install the tool and launch it there afterwards. Once this software is initiated, you have to activate Unknown Sources. If you can't find this option, we recommend doing this: tap Menu, then choose Settings. The option which must be activated is under this button.
After doing this, see if you already tapped USB Debugging. In case you haven't done that, turn on this option now. You should then move on by grabbing the smartphone's USB cord.
This is the tool that must be used for the plugging of your devices to one another. The connection between the two should start soon after you use that cable.
If it does, we suggest waiting for this part to be done. Only then you'll be able to start the device's rooting.
[sc name="banner-jos"]The latter has to be initiated like this: tap Root Device (All Methods). If you are done, we recommend waiting for a bit. In a very short while, the process will be finished.
After that time is up, you should consider rebooting your smartphone. The Galaxy Chat GT-B5330 is now the owner of all the novelties we mentioned before.
Get a taste of them for a while and see whether they're worth your time or not. Then, if you prefer an unrooted phone, perform the reverse of this procedure with the same tool: the SRSRoot software.
If you should have questions (or comments) about this guide, you can go to our comment box below and drop them there.