Update Galaxy Tab Pro 8.4 SM-T320 to KitKat 4.4.2 XXU1ANAG
Galaxy Tab Pro 8.4 SM-T320 was released in the UK not too long ago. This tablet will have Android KitKat 4.4.2 featured on it as soon as you install XXU1ANAG official firmware today with our guide.
Whatever you do, don't use a tablet that is not your Galaxy Tab Pro 8.4 SM-T320. It will be damaged. This update is specifically meant for the UK and the KIES logo isn't activated. As such, you can obtain an update via OTA or our tutorial. The OTA must be performed on a tablet which is running a stock ROM; how to apply it: use the Software Update button under the tablet's Settings menu.
If you opt for this guide, there are some cons to having an updated gadget if it's rooted. The root access, for one, will be revoked. Also, you will soon see that the system partition is erased. But the internal and external SD cards will be spared; the most important data will also be saved.
The new features to watch out for: bug fixes, security enhancements and no more App Ops app.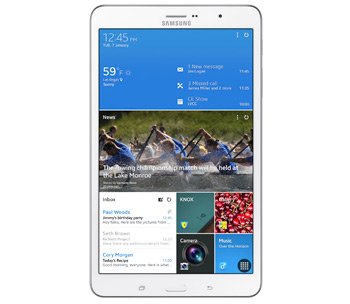 Prerequisites
As far as requirements go, you should:
the notebook's security software should be disabled, as well as the security programs on the Galaxy Tab T320;
on your laptop, be sure to have Windows as the operating system;
after you've made a standard backup you need to create a full NANDroid one;
your notebook should have USB drivers installed on it (the drivers must be compatible with the tablet);
the tablet's battery should be fully charged;
your tablet must have its USB Debugging turned on.
Step by step instructions
Download, , the Android KitKat 4.4.2 XXU1ANAG for the UK on your notebook (file name: T320XXU1ANAG_T320OXA1ANAG_BTU.zip). Next, get Odin from this place on the notebook. This was the first step.
Next up: with either WinZipr or 7Zip, extract the files you just downloaded on the laptop and then move on by booting the tablet in Download Mode.
The actions you should perform for this: press and hold Volume Down and Home together, then Power and, when the icon of Android and after that a triangle of warning, you should press Power one more time.
Concentrate on the Odin next. Why? Because you have to launch it, on the laptop, as an Admin. When it's open like that, you need to connect the tablet to your laptop.
As always, the connection should be established with the tablet's USB cable. When the Odin has finally located your tablet, it will display the following: a message that will say "Added!!" and one ID:COM box which should become blue or yellow.
Once the screen shows up with those, you will be able to continue to the rest of the steps. But if no connection is established, you can always resort to flashing the USB drivers or using another USB port.
When you're done with the plugging, you have to tap BL, be sure to choose a file with BL in the name and then tap AP. Continue by opting for a file with AP in the name, tapping CP, opting for a file with CP in its name, tapping CSC, choosing a file which has CSC in the name, tapping PIT and selecting a file with an extension called .pit.
Once every single one of the tasks above has been completed, you should go and tap F. Reset Time, Auto Reboot and Re-partition. When their activation is done, you need to go to "Start".
By doing that, the firmware will find its way on your Galaxy Tab Pro 8.4 SM-T320 after an installation process. If the latter is all done, the tablet is going to reboot.
[sc name="banner-jos"]The restarting will then give way to this message appearing on the display: "Pass" (in green). The tablet and the laptop have to be unplugged from each other. All is now well: the gadget is flashed with the XXU1ANAG and updated to the Android KitKat 4.4.2.
Time for this now: tap Settings, click on About Tablet and the new firmware is going to display all of its pros to you. If you are not satisfied with them, there's always the option of getting the previous ROM back on the tablet.
Just use the NANDroid backup file. As a result, your device's upgrade procedure will be revoked.
As always, if you have questions you can leave them below this post and we'll get back at you.