Update Galaxy Tab 2 GT-P3113 to Jelly Bean 4.1.1 build XARCLI
The Samsung Galaxy Tab 2 GT-P3113 is still among the gadgets that don't get to enjoy the full benefits that the new Android 4.1.1 Jelly Bean OS offers. But if you do want your device to be given this great opportunity, we will instruct you on how to use this operating system on your own device. And you don't need to be a pro to install the software we will discuss here.
There are a couple of ways to bring the newest Android 4.1.1 Jelly Bean on your Galaxy Tab 2 GT-P3113. One of them is a software version update named XARCLI. This option was leaked a while back, much to our pleasure, and ulterior tests proved it to be good. But still, we should tell you that you may not be safe from bugs and other issues which arise from an unofficial goodie. And either way, if you are not too sure whether to install such tricky software, you can always wait for the official version. But if your impatience got the better of you, we will show you how to install the XARCLI on this tablet.
Not until we warn you about some things that should be taken into account. Like the fact that this unofficial firmware was released for the GT-P3113. And that it is dangerous to use it on another tablet, because you run the risk of damaging that other device. For which we will not be held responsible.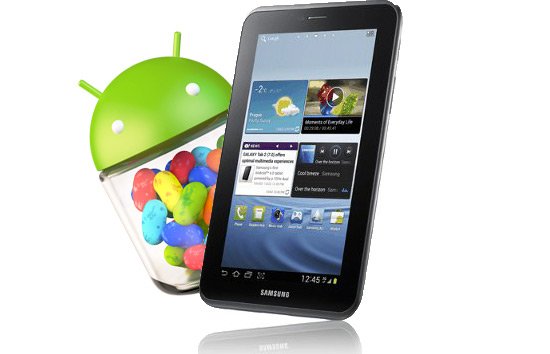 Requirements
The requirements you have to fulfill to be absolutely sure you're doing it right are the following: get the custom update for the Galaxy Tab 7.0 GT-P3113. Then see if your battery is fully charged.
The last thing you need to do is to make a backup of those elements you deem as very important for later and day-to-day use. And don't forget to add them back again once you're done with the procedure.
Which looks like this.
Important instructions
Step 1: copy the previously downloaded Jelly Bean build XARCLI OTA (leaked firmware) update to the microSD card that is in the Galaxy Tab GT-P3113.
Switch the tablet off; this is step 2.
[sc name="banner-jos"]Followed closely by step 3, namely the rebooting of the gadget the mode known as Recovery Mode. A very east step to follow: just press the Power and Volume Up keys. Because this will turn the tablet's display on. Once it does this, let go of the key for Power; however, don't let go of the one for Volume Down. If you let go, then the device will not boot into recovery.
For step 4 you have to choose to use the update using external storage. Then opt for the Jelly Bean firmware update file.
The last step is step 5: the upgrade is going to get the device into a rebooting phase. And you are ready to explore the wonders of the Android 4.1.1 Jelly Bean.
Should you notice that the rebooting does not happen, do this: return to the main recovery menu. Once there, choose Reboot system now.