Root and Install ClockworkMod Recovery on Intex AQUA i5
Our plans for this guide include a full explanation on how to both root and then flash a custom recovery image on Intex AQUA i5.
You probably haven't heard about this device up until now. But it's a smartphone which has found plenty of people interested in it. Enough to make them buy it and try it out. For its owners who don't know how to root it and after that install it with either CWM Recovery or TWRP, they should check out this tutorial.
Because we wish to let them know all the pre-requisites and then all the steps which will help make those two procedures a dream come true. So arm yourselves with patience and pay attention to everything you will see described in today's post.
Requirements
Once you have a rooted handset, apps that need such a procedure to be flashed on the handset will be very easy to find their way on the Intex AQUA i5.
Here are the pre-requisites that must be considered: turn on USB Debugging (an option that is reachable if you first open Settings, then choose More, access Development Options and select the USB Debugging option), create a backup via this tutorial (never use PC Suite to make one) and charge the device's battery.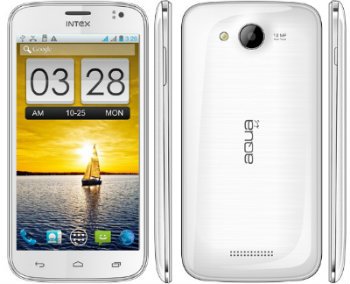 How to root the phone
Once you perform all the requirements above, you need to start the guide by downloading the following on your notebook: , and . Wait for the three packages to settle onto your PC, then plug the Intex AQUA i5 – via the handset's USB cord – to your comp.
Unzip, after that, the Rooting Package; you will then spot something called RunMe.bat file. Launch the latter on the notebook and then opt for "1".
The screen is going to show you some guidelines; do as they tell you to, then wait for the smartphone to enter the rooting stage of our guide.
After this ends, you should check if the phone is really rooted; to do that, pay a visit to Google Play Store, look for Root Checker app and flash it on your AQUA i5. Should you see that the device remains unrooted, you should repeat the entire tutorial. The Root Checker app we mentioned can also be used to unroot the handset if you don't like how your phone performs in this state.
How to install CWM Recovery
Here is what you need to do to flash a custom recovery image – more exactly CWM Recovery – on the smartphone.
First task for you to accomplish: find and then flash MobileUncle MTK Tool on the AQUA i5.
Launch it afterwards. Then be sure you do this: tap the option called Update Recovery and afterwards transfer recovery.img to the phone's SD card root.
After you have patience for a couple of minutes (not more than five), the CWM Recovery tool will be flashed on the Intex AQUA i5.
[sc name="banner-jos"]If everything went well, your handset should reboot into the custom recovery image. Now your phone is both rooted and installed with ClockworkMod Recovery.
NOTE: In the eventuality of a problem, like for example the smartphone gets stuck in boot loop, you need to solve this by taking the battery out of the device, then inserting it back in and re-doing the tutorial from the first step to the very last one.
The I5 could also surprise you with this issue: getting stuck in "Welcome" screen. For this to go away, you will have to repeat the steps we gave you for the previous problem. All is well now.