Install KitKat 4.4.2 XXU1ANB7 on Galaxy Tab Pro 8.4 LTE SM-T325
Galaxy Tab Pro 8.4 LTE SM-T325 is in for a treat. The name of the treat is Android 4.4.2 and it'll land on your tablet very soon!
The latest Android 4.4.2 OS can become one with your Galaxy Tab Pro 8.4 T325 if you have XXU1ANB7 on it. Launched this month, the aforementioned firmware is completely new. And it only works for the tablet we pointed out just now.
The XXU1ANB7 came out for Germany. Once it's installed on your gadget, you will have endless possibilities to get the most out of your tablet. The list of new features contains tweaks that'll make the device's battery more powerful, new apps and customization options. You will finally get rid of the App Ops app and security problems. The update also helps deliver a much improved performance, greater stability and superior speed.
When a rooted Galaxy Tab Pro 8.4 LTE SM-T325 gets the new firmware, its former root access will be revoked. The important data will get saved, however, as will the internal and external SD cards. Unfortunately, the system partition will be erased.
The new firmware doesn't let you install it via Samsung's KIES software. But you can try OTA if you don't want to upgrade your gadget with our guide. Make sure your device is running a stock ROM if you want to apply the OTA solution.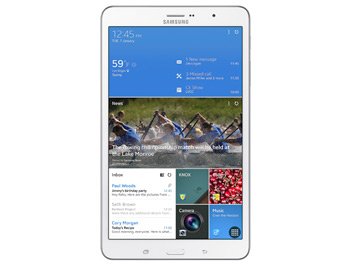 Prerequisites
Off you go with these requirements:
launch your tablet and laptop, then turn off their security programs;
on this page you'll find USB drivers for your tablet that you should download on the laptop;
only Windows should be the OS running on the notebook;
save the data on your tablet with backups (include a full NANDroid backup);
the battery inside the Galaxy Tab Pro 8.4 LTE SM-T325 must be fully charged;
your tablet's USB Debugging must be turned on.
Step by step instructions
We now need you to download some packages for step one.
They're as follows: the and Odin 3.09 from this page on the notebook. From now on, use WinZip to extract the packages.
After the completion of the unzipping, enter the tablet in Download Mode by pressing these keys simultaneously: Volume Down and Power. After that, do this: press Volume Up after the appearance of a screen with a warning message.
We now advise you to launch, on your laptop, the Odin as Admin. You should open it like this: right-click on a file with .exe in it, then choose "Run as Administrator".
Proceed to this next step telling you to provide a connection between the tablet and your laptop. After you've used the tablet's USB cable for this step, you will come across "Added!!" and a yellow or blue ID:COM box on the screen.
If, however, the connection is not established, give it another go by choosing a different USB port to use or installing, once again, the USB drivers on your laptop.
When everything's in order, move on by tapping BL, choosing a file with BL in the name and tapping AP next. Now opt for a file with AP in its name, click on CP, opt for a file with CP in its name, tap CSC, select a file which has CSC in its name, click on PIT and then select a file with .pit in the name.
Next: go ahead and tap F. Reset Time, Auto Reboot and Re-partition. When done with the activation of the boxes above, time for a different step.
This time, tap "Start" and wait for the XXU1ANB7 to be flashed on the Galaxy Tab Pro 8.4 LTE SM-T325. You will know that the flashing is over when the tablet begins to reboot. You need to unplug it from your notebook the moment a "Pass" message comes up in green.
[sc name="banner-jos"]As soon as there's no USB cord to connect the two devices, our advise is this: tap Settings and after that tap About Tablet. From here on, make sure you have a go at the new firmware to see whether or not you like it.
Should you dislike it, return your gadget to its old ROM. The safest route to take for this: use that NANDroid backup we mentioned in the part where we talked about pre-requisites. The bad thing about using this file is that the upgrade process will be revoked.
As for questions you may want to ask us, use the comment box under this post.