How to Install Android 4.1.2 XXAMH6 Firmware on Galaxy Pocket Neo S5310
In search of the newest Jelly Bean 4.1.2 update for your Galaxy Pocket Neo S5310? You will find it in today's post, as well as how to get it on your smartphone as quickly as possible.
Like all update tutorials out there, you should only use the phone model we presented at the beginning of this post; use any other version and its firmware will get bricked. Today we are using an official firmware known under this name: Android 4.1.2 XXAMH6.
This handset was announced in April this year and the new update came out in October for Germany, South Africa and United Arab Emirates while the Czech Republic (O2C carrier) and Hungary (T-Mobile) saw the same firmware released last month. In each of these cases, the KIES logo of the XXAMH6 isn't activated, so you can't update your Galaxy Pocket Neo GT-S5310 via the KIES software. It's best to use our guide or OTA.
In case you prefer using our tutorial, make sure the handset comes equipped with a custom ROM so that you can enjoy the new firmware that sports these novelties: a fixed frame of 60 fps, sync and connect email updates, triple buffering, mini apps, a new keyboard, group cast, pop up play, extended vsync timing, all share, Google Now, automatic adjustment for the size of widgets, touch anticipation and free style widget.
A heads-up for those whose phone is rooted: along with the update tool, your device's system partition will be deleted and the root access revoked. Don't worry about the data on your smartphone or internal/external SD cards; none of them will get erased or destroyed.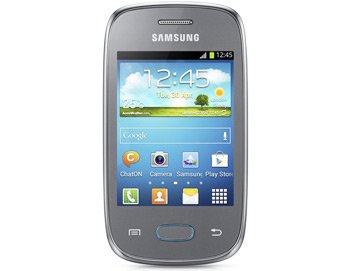 Requirements
Right now you should concentrate on the following pre-requisites:
create backups (a regular and a full NANDroid one, as well, via these instructions);
look for USB Debugging and enable it;
download from this page and install USB drivers fit for the phone on your notebook;
should your phone's battery levels tell you that you must charge your battery, do it;
disable, on both the phone and notebook or PC, those particular programs that make sure your devices are well protected against security threats;
your PC or laptop must run Windows.
Instructions
The steps that ensure a successful upgrade must now be followed through. The tone is set by the first of them, which asks you to download Odin tool from this page and the Jelly Bean XXAMH6 official firmware (download the Germany version from , the United Arab Emirates version , the South Africa version , the Czech Republic version and the Hungary version ) on your notebook or personal comp and unzip them.
Then do the following: boot your phone in Download Mode. You should perform this task by simultaneously pressing and holding Volume Down, Home and Power, wait for a message of warning to show up, then press only Volume Up.
Your notebook needs to still be running for the next step, which should go like this: open, on this device, the Odin as Admin. Take, when you are done, the USB cable of your Galaxy Pocket Neo to establish a connection between it and the laptop.
To find out if there is a connection between the devices, you need to see an ID:COM box in yellow and an "Added!!" message. If they are not displayed, then do this: re-install the USB drivers or make sure you use a different USB port.
After the S5310 and the second device are plugged, you can click on PDA, select a file with CODE in the name, click on Phone, choose a file with MODEM in the name, tap CSC, then be sure to opt for a file with CSC in the name, click on PIT and choose a file whose extension should end in .pit.
[sc name="banner-jos"]Auto Reboot, Re-partition and F. Reset Time must be chosen afterwards and you should also tap "Start". This is going to get the Android 4.1.2 XXAMH6 stock firmware on your smartphone as soon as the device restarts and shows a message reading "Pass".
This leaves us with only this step: disconnect the Galaxy Pocket Neo S5310 from your laptop. The new firmware is now installed on your handset and you can look it up after you tap Settings and then click on About Phone.
The new firmware can leave you confused and pining over the old ROM. You can restore it by revoking the update process. This is possible after you use the NANDroid backup file.
Got questions? Our field below is ready to receive them!