How to Install Android 4.2.2 XXUANF1 on Galaxy Grand Neo GT-I9060
If you're in the mood for updating Galaxy Grand Neo GT-I9060, you can use our post as a method. The actual firmware which can get your device upgraded is mentioned below. Go ahead and make the most out of this guide!
There are so many things you can do if you have an updated gadget. Your phone will enjoy all of them as soon as this is installed on it: Android 4.2.2 Jelly Bean XXUANF1. It's an official firmware and it was launched this month. It comes for free and it's available for Portugal.
Because it has a deactivated KIES logo, you won't get the update with Samsung's KIES. But you can get it with OTA; make sure your handset's equipped with stock ROM to apply this method. If you don't have a device with this sort of tool, our tutorial can be used as an alternative.
The benefits of this official firmware
Before you install the official update firmware, you must make sure that you're using the right phone model. If you aren't, best perform the procedure with a guide that's appropriate for your device.
Here is a look at what to expect from having the Android 4.2.2 XXUANF1 on your handset. An update provides this phone with a new set of download notifications. You will enjoy low battery bug fixes and a USB debug white-list, too. Joining the novelties is a new Gallery app.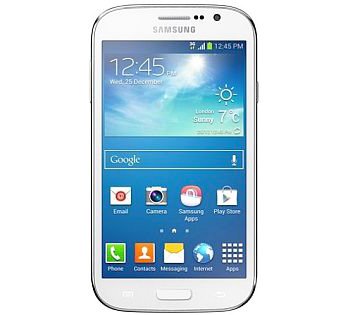 After that you'll get the option to long-press the WiFi Bluetooth icons in Quick Settings to be able to toggle the on/off state while using the device. You will also be offered a new set of sounds for wireless charging. You can then try out new features. A much better Bluetooth audio streaming experience is also possible.
When there's root access on your phone and you want to get the update, some of the device's elements will be damaged. Root access, for one, will be left out. Apart from that, the Galaxy Grand Neo GT-I9060 will lose this: its system partition. You won't go through the loss of important data. Also spared from damage are the phone's internal / external SD cards.
Prerequisites
If you're done with the info above, do as these instructions tell you to:
turn on USB Debugging on the handset;
don't forget to turn off the security programs featured on your Samsung I9060;
charge the battery of your handset till it's full;
download USB drivers from this page on your notebook (make sure they are compatible with your handset);
Windows has to be the only OS running on the notebook;
the security software in use on your notebook needs to be deactivated;
generate one or multiple regular backups to save the data inside your phone;
a full NANDroid backup should also be created;
Step by step instructions
After successfully completing our requirements, you may start the update process.
Like this: download the on your notebook. Right after you're done with that, download another package: Odin v3.09.
Use 7Zip to extract the packages. If the unzipping is done, open, on your notebook, this file: Odin v3.09.exe.
Perform the following: enter the Galaxy Grand Neo GT-I9060 in Download Mode. This is how it's done: press and hold Home, Power and Volume Down together. When a boot message is delivered on the display, press Volume Up.
Be sure to do this next: use the handset's USB cord. It will help connect your smartphone to the notebook. When Odin returns with a sign in blue, you will have to proceed to our next steps.
This one tells you to add the firmware file to AP / PDA. After that, tick some boxes. One of them is this: F. Reset Time. The other is this: Auto Reboot.
After you uncheck Re-partition, you need to begin the installation of the update firmware. Tap "Start", then wait till the flashing's completed. This will require no more than 15 minutes.
[sc name="banner-jos"]Everything will be alright if you see a message reading "Pass". Your Samsung GT-I9060 will restart very soon after this message is displayed.
You should now remove the USB card so that your devices are not connected to one another. This will allow you to click on the following: Settings and About Phone.
The two have to be tapped so that you can use the update's goodies. If you think of regaining the phone's previous ROM, you should revoke the upgrade. That is done via the NANDroid backup file.
If you have questions for us about this update, use the comment box below!