Update Galaxy S2 Skyrocket I727 to CM10.1 Jelly Bean 4.2.2 Final-Build
We at DroidGator want to introduce owners of AT&T Samsung Galaxy S2 Skyrocket I727 a tutorial on how to install CM10.1 Android 4.2.2 Final-Build on it. Not too long ago we found about the existence of this tool and we thought it went very well with this sort of device. So we chose it for the guide, and hope you will enjoy it, too.
Everyone, including us, agree on the fact that the CM10.1 will not make your handset perform in a crappy way. On the contrary, this tool will bring stability and an overall impressive performance.
Requirements
The guide we recently put together does not deliver the kind of steps which are impossible to follow. Or so we hope. Our readers will now be welcomed with a set of requirements that go like this: charge the battery inside the phone, turn on USB Debugging and make backups using this guide. Don't worry of the warranty goes away after you are done with the tutorial: you can always regain control of it by installing official firmware on the Galaxy S2 Skyrocket SGH-I727.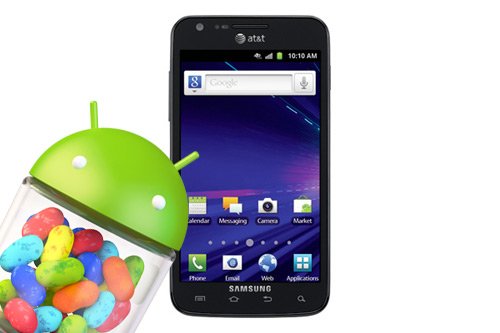 How to flash CyanogenMod 10.1 on SGH-i727
First step to operate for a successful update: download the and Google Apps from here on your notebook.
Now you should be doing the following: turn to your laptop and be sure to plug the handset to it; use, for this step, the phone's very own USB cable. Then take the two zip files from their current spot and move them to the smartphone's SD card root, then be sure to power the handset off after you've unplugged it from the PC.
The handset must be entered into a mode known as Recovery Mode; the correct actions for this are as follows: simultaneously press + hold the keys that are called Volume Up, Home and Power; if the display of the i727 commences to flash, then you need to stop pressing + holding those buttons.
After you create a NANDroid backup – by opting for something called Backup&Restore, then for an option labelled Backup; once the backup is over, you need to return to the Recovery Menu and, once you are in that particular location, devote yourself to opting for these two: Factory Reset/Wipe Data and after that choose "Yes".
After you have confirmed that action, you should have some patience and then return to the Recovery Menu; there, you need to select Wipe Cache Partition instead, then wait a bit and choose Wipe Dalvik Cache afterwards.
[sc name="banner-jos"]A new set of options needs to be chosen; they are the following: Install zip from memory card and Choose zip from memory card. After you've opted for those two, you have to opt for the cm-10.1.0-skyrocket.zip with Power; that way, you will help it install on the I727 after you confirm the flashing first.
The whole process is sure to require a couple of minutes tops. To flash the Gapps archive file, you should repeat the moves you had to perform when you installed the CyanogenMod file not too long ago.
After more waiting, you can return to the Recovery Menu. Then opt for the phone's restarting option. The Galaxy S2 Skyrocket SGH-I727 is running the CM10.1 Final-Build Jelly Bean 4.2.2 custom ROM.