Update Galaxy Ace Plus S7500 to Android 2.3.6 BUMB1 Firmware
If your mind is set on upgrading Galaxy Ace Plus S7500 to Android 2.3.6 Gingerbread but you have no idea how, we're here to help. This guide will tell you everything about the procedure in detail so that you can update your phone on your own afterwards.
The new BUMB1 official firmware you will flash on your device came out in March for the UK (Vodafone KIES on), Romania (Vodafone), Italy and Austria (A1) and in April for Switzerland (Swisscon), Ireland and Germany.
Not all of these versions have the KIES logo activated. Only these countries do: Switzerland, Ireland and Germany. When the KIES is activated, you can upgrade your Galaxy Ace Plus GT-S7500 using Samsung's KIES if that's what you want. For the versions whose KIES logo doesn't come activated, we advise you to use OTA or today's guide for the update. The OTA and the KIES should only be used if the handset comes with an official ROM.
The novelties
Here's the thing about the new firmware: if the smartphone is a rooted device, the root access will be revoked and the system partition will be erased. All of that aside, the important data that's on your handset won't be deleted; the phone's internal and external SD cards will also be preserved.
To make the most out of the new features we will add here, your device must be the Samsung S7500 instead of another one; you will only brick your phone if it's not this one.
So here are the goodies that come with the new firmware: automatic adjustment for the size of widgets, pop up play, a fixed frame of 60 fps, sync and connect email updates, mini apps, touch anticipation and free style widget, extended vsync timing, Google Now, a new keyboard, group cast, triple buffering and all share.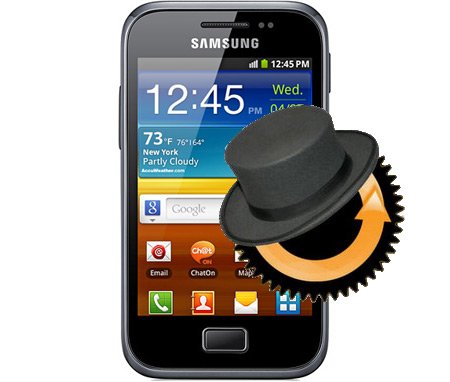 Requirements
Here's a look at the requirements that are a must in every tutorial:
USB Debugging must be turned on;
create a regular backup and after that make a full NANDroid one;
flash USB drivers available for your handset on the laptop you're using;
charge the battery of the phone in case there's not much life left on it;
disable, on your Galaxy Ace Plus and then on laptop, the devices' security programs;
Windows must be the OS running on your comp or laptop.
How to install BUMB1 stock firmware on your device
Each guide has to begin with the step that tells you to download, on your notebook, these files: (you must select the appropriate version for your device) and Odin tool from this page.
To continue, you need to unzip each of the packages saved on the laptop, then do the following: enter Download Mode by pressing and holding, at the same time, Volume Down, Home and Power; when a warning screen appears, you have to press Volume Up.
After this task is performed, you can launch the Odin 3.07.exe as an Administrator on your laptop and then plug your Galaxy Ace Plus S7500 to the laptop.
The connection is going to be established once the Odin has found the handset and displayed "Added!!" and an ID:COM box in yellow. There might be no connection established between the devices; if you're going through that, you should install, once more, the USB drivers on the laptop or make use of another USB port.
After both notebook and handset have gone through a successful plugging, you are able to go on by clicking on PDA, opting for a file with CODE in the name, tapping Phone, choosing a file with MODEM in the name, clicking on CSC, choosing a file which has CSC in its name, tapping PIT and selecting a file with a .pit extension.
[sc name="banner-jos"]A group of boxes with various names close to them will soon appear. Your task is to activate only these 3: Re-partition, F. Reset Time and Auto Reboot. Tap "Start" when you've checked those three boxes; this way, the firmware needed for the upgrade will be flashed on the smartphone.
The installation will soon end, which means that the handset should reboot. If "Pass" appears on it, do this: unplug your Samsung S7500 from the laptop.
Once everything is in place, we recommend you to get a feel of the new firmware. If there's anything wrong with it and you want to restore the old ROM, use the NANDroid backup file and the update will be revoked.
You can leave questions in the field below this post.