How to Install XXAMH4 Jelly Bean 4.1.2 Official Firmware on Galaxy Core I8260
Galaxy Core I8260 is only going to showcase its true potential once you are done with today's update guide. To be capable of that, your smartphone will need the help of this nifty tool: XXAMH4 Jelly Bean 4.1.2 official firmware.
Requirements
The answer to your update request will be offered after you take notice of the following pre-requisites:
leave your handset unrooted;
don't get a custom recovery image on it;
turn on USB Debugging;
install USB drivers for your phone on your laptop or personal computer;
charge the battery that's inside your device;
create backups using our tips;
use the factory unlocked Galaxy Core GT-I8260;
download Odin tool from here and on your laptop.
In case your phone was rooted a while ago, remember this: the update shall make your device lose its root. In order to get back root access, we recommend you to root your handset again.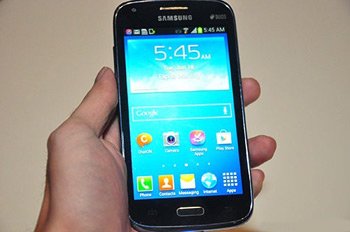 Update Instructions
Your next target: the steps above. Their purpose is to guarantee a spotlessly upgraded Galaxy Core I8260.
The introductory step will ask you to extract the content of I8260XXAMH4_I8260OXXAMH2_XEF.zip firmware on your laptop's desktop. Once the extraction phase is all done, you should leave the other file as it is and power the phone off.
The next phase your device must pass through: boot it into Download Mode by doing the following: simultaneously press and hold Volume Down and Power, wait until a logo shows up (of Samsung) and Android's own logo is observed.
Once the requested mode has been displayed, you should follow these instructions: launch the Odin on the notebook and then plug the Galaxy Core to the latter.
The moment the plugging has been successful, you should behold the following sight: an "Added!!" message and a yellow ID:COM box. If the connection did not go so well, you should try this out: use a different USB port or install the USB drivers one more time.
When you are done, you can go on by tapping PDA and then choosing a file plastered with CODE all over it. Then do this: tap Phone, opt for a MODEM file, tap CSC and afterwards choose a file that has CSC in the name.
End this part by performing these couple of actions: tap PIT and make sure you choose a file with a .pit extension in the name. Then, after you do all of this, don't forget to continue with these guidelines: check, while in Odin, the boxes labelled Repartition (only in case the .pit file was chosen), F. Reset Time and Auto Reboot.
[sc name="banner-jos"]This is what needs to be done next: tap, in Odin, the key called "Start". This is how you get the flashing of the update file started. Have some patience now while the XXAMH4 Android 4.1.2 JB official ROM lands on your Samsung I8260.
You will know that everything went as expected once you notice the device restarting and then showing its Home screen. So, after you are made aware of those signs, you should disconnect the handset from your laptop, go to "Settings" and then tap "About Phone". The firmware for your phone's upgrade should be in there for you to test out next.