Install Armageddon ROM on Galaxy S2 GT-i9100
There's no more waiting in store for us when it comes to Samsung's Galaxy S2 GT-i9100. We can finally say that we discovered the best method to have it feature Android 4.1.2 Jelly Bean before the official release.
As you may guess, a custom ROM is the tool to be thankful for. One which is called, quite ironically, Armageddon. But don't take its name seriously; it won't blow your handset into smithereens. Quite the opposite.
Requirements
If you want to get your hands as quickly as possible on it, see our post for further details. But for now we have to stop at the requirements that must be acknowledged for a successful process.
Activate the USB Debugging, root the smartphone with our tutorial, generate a full backup with the important data and flash ClockworkMod Recovery.
Are you done reading about all these pre-requisites? Then let's continue and see how you can best install Armageddon ROM on the Galaxy S2 GT-i9100.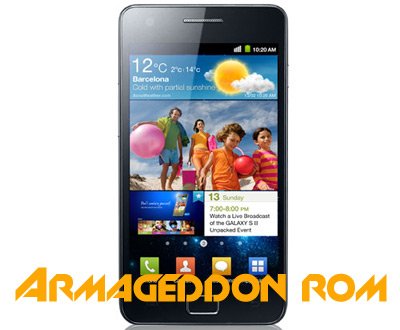 Important instructions
Download, for the first step, the and . These two will then need to be featured on the phone's memory card; this means that you need to copy them to that location and unplug the phone from your laptop.
Step 2: switch the Galaxy S2 GT-i9100 off.
Step 3: access the Recovery mode via keep pressed the Volume Up, Home and Power buttons at the same time for about 5 seconds. Wait for the device to activate its touchscreen after which you need to backup the original ROM. This is achieved like this: find Backup and Restore. Opt for Backup when you spot it.
Step four: do a confirmation of this.
For step number 5 you have to select Go Back and locate Factory Reset/Wipe Data. Confirm the operation.
The sixth step is going to ask the following of you: select, once more, Go Back and choose Wipe Cache Partition. After you confirm this, too, you need to tap on Go Back.
[sc name="banner-jos"]Step number 7 requires the user to opt for Advanced and Wipe Dalvik Cache.
Step 8: once you confirm this, select Go Back. While you're in the phone's menu, you have to opt for installation of the archive from the SD card.
Next step on the list: select Choose zip from sd card and the Armageddon ROM .zip archive.
Step 10: confirm the action, then tap on Go Back and choose Reboot System Now.
The eleventh step has the following in store for you: switch the handset off.
Step 12: do what you did for the third step from "boot it into Recovery" till "Home and Power". Then repeat the actions in the eighth step from "opt for Install" till "sd card" and opt for the Ink Effect archive this time.
Step 13: select Go Back. After that you need to choose the option called Reboot System Now. Which will end in your Galaxy S2 GT-i9100 being installed with the Armageddon ROM.