How to Update Samsung Galaxy S3 GT-I9300 to Android 4.3 XXUGND1
After your Galaxy S3 GT-I9300 is paired with Android 4.3, you'll be able to do all kinds of things with your phone. Including customizing it via all sorts of options. The whole procedure is described in today's guide!
If you were to choose between various Android versions for your handset, this one should be your first pick. Especially when there's firmware such as XXUGND1 to install on it. This tool is used today for updating your Galaxy S3 GT-I9300 and discovering the goodies which come with this version.
The release date of the Jelly Bean 4.3 XXUGND1 is April. This official firmware has just come out for these countries: Hungary, Croatia and Serbia (VIP). Because many people prefer KIES over OTA, the firmware lets you use it for the upgrade. But, if your phone doesn't have stock ROM, you won't be able to use this method. Which is where our tutorial comes in: we don't require your phone to have stock ROM.
The Samsung I9300 has to be the only device you update to the new OS. Using another model will brick it. As far as novelties go, this update features new apps and battery improvements. Besides the customization tweaks we mentioned, this new operating system will also offer new features.
If you don't know how a rooted smartphone will be affected by the update, we'll tell you. Having the new firmware on-board translates into a revoked root access. Also, your handset's system partition will be erased, but the important data won't. Your device's internal and external SD cards are saved from damage, too.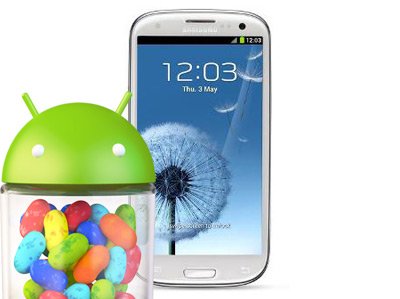 Prerequisites
Below are the pre-requisites which act as preparations before the actual upgrade:
a laptop with Windows as its operating system should be used;
your laptop needs USB drivers compatible with the handset, so download them on it next;
to protect your phone's data from damage, backups must be performed;
also, a full NANDroid backup is recommended;
turn USB Debugging on;
the phone's battery must be charged;
disable the security software installed on your Galaxy S3 GT-I9300 and on your notebook.
Step by step instructions
The step that comes first right now asks you to download, on your laptop, Odin v3.09 (from this page) and , and . After both packages are downloaded and then saved on your device, time for their unzipping. Once WinRar has done its job with them, open, on the notebook, this file: Odin v3.09.exe.
Move on to the step which tells you to boot the smartphone in Download Mode. For this, be sure to press and simultaneously hold these buttons first: Home, Power and Volume Down. Once done with this first bit, continue by pressing Volume Up when a boot message is displayed.
After your phone's landed in the Download Mode, do this: establish, with the phone's USB cord, a connection between the Galaxy S3 GT-I9300 and the laptop. Wait for Odin to tell you, through a blue sign, that the plugging has been successful.
Only then can you perform the following action, which tells you to add the firmware file to AP / PDA. Now you should do the following: wait for a list of boxes to be shown on the screen. When it is, check two of them: Auto Reboot and F. Reset Time. Re-partition, you'll notice, is checked already. You have to go to it and uncheck it. Now tap "Start" to begin the firmware's flashing.
The installation is going to require about 15 minute. But don't worry, the smartphone itself will tell you when the process is done. First of all, it will display this message: "Pass" (which should be in a green-colored box). Then the smartphone will automatically enter a rebooting phase.
When the latter is finished, you will have to perform the last step. It consists of you removing that USB cable in order to make sure your devices aren't plugged together from now on.
[sc name="banner-jos"]When the connection's been severed, you can launch the Android 4.3 XXUGND1 by doing as follows: tap Settings on the phone, then tap About Phone.
If you aren't convinced the new OS is worth your time, a restoration of the old ROM is possible. The NANDroid backup file will make sure you enjoy it once more. By doing that, though, the upgrade's going to end up revoked.
If there are problems with the update, you can leave comments and questions below.