How to Update Galaxy Trend Plus GT-S7580L to Android 4.2.2 UBUAND2
Galaxy Trend Plus (Latin) GT-S7580L is in the mood for something new. As it happens, Android 4.2.2 has just received an update. It contains all the tools which will make your phone perform the best it's ever done. You'll discover the steps for the upgrade in the upcoming guide!
There's new firmware you can install on your smartphone. Released for your device last month, the firmware is called Jelly Bean UBUAND2. It's only available for Mexico and it is the best thing your Galaxy Trend Plus GT-S7580L can use.
The improvements
The update we'll help you apply on your smartphone has to be performed only on the handset version we mentioned previously. If the procedure's done on a completely different phone, you will only end up with a damaged product.
This is what the upgrade delivers on the phone: a new Gallery app and then improved Bluetooth audio streaming. After the new firmware is flashed, you'll also get the option to long-press the WiFi Bluetooth icons in Quick Settings to be able to toggle the on/off state while using the device. All of this is joined by a USB debug white-list along with this: a new set of sounds for wireless charging. Then you'll get the possibility to enjoy these: a new set of download notifications and low battery bug fixes.
If the Jelly Bean 4.2.2 official firmware meets up with a rooted product, damage will ensue. In the case of your phone, its system partition and root access will be the ones to have problems. The former will be deleted and the latter shall be revoked. On the other hand, nothing bad will affect the device's internal / external SD cards or its data.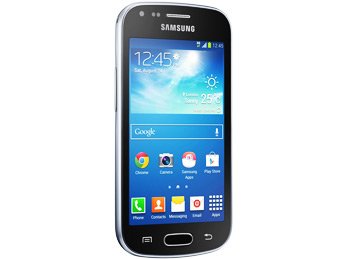 Prerequisites
As for what comes up next, you'll have to look at some pre-requisites:
turn on USB Debugging on your smartphone;
always remember to turn off the phone's security programs;
the security software in use on your notebook need to be deactivated;
charge the battery of your smartphone;
download USB drivers on your laptop (the ones which only work with your Galaxy Trend Plus S7580L);
Windows has to be the only OS running on the notebook;
generate one or two backups to preserve the data inside your handset;
a full NANDroid backup is the next thing to perform.
Step by step instructions
After you are done with the preparations, you'll need to download certain packages on your notebook. They are Odin v3.09 (available here) and the , respectively.
If each of these two is now on your laptop, save them there. After that, unzip them with WinZip or 7Zip, then open this file on the laptop: Odin v3.09.exe.
You will then be asked to do this: press and hold, at the same time, some buttons. They are the following: Home, Power and Volume Down. Volume Up has to be pressed afterwards once a boot message is shown on-screen.
This set of actions will enter your phone in Download Mode, after which you should move on by grabbing the phone's USB cord. Use it to create a connection between the notebook and the handset. Once the Odin's displayed a sign in blue, the plugging will have been achieved.
As soon as the two devices are connected, you have to go to the firmware file. Once there, do this: add it to AP / PDA. If this step has also been completed, do as follows: activate Auto Reboot. After you leave Re-partition unchecked, tick F. Reset Time and click on "Start".
When this option is tapped, the firmware for today's update will be installed on your phone. To know if the UBUAND2 is really flashed on your Samsung GT-S7580L, you should first wait a bit.
Once approximately 15 minutes are up, the smartphone will end up with this message on its screen: "Pass". If you see it, wait some more, because the handset will soon reboot.
The installation is now over! Go over to your devices, take out the USB cable and check whether or not the two are now disconnected from one another.
[sc name="banner-jos"]When they are, complete the guide by launching the new firmware. For this task, tap these: Settings and About Phone. The advantages of an upgrade will now be available for you.
If they don't feel right, the NANDroid backup file will return your device to its old ROM. In exchange for this, the phone will lose its update.
Below you'll discover a comment section. Leave your questions there!