How to Update Galaxy Tab Pro 8.4 (LTE) SM-T325 to KitKat 4.4.2 XXU1BNE3
If your immediate plans include the update of Galaxy Tab Pro 8.4 (LTE) SM-T325, you've come to the right place. Our tutorial tells you what firmware to use for this procedure. And how to install it on your tablet. Buckle up and enjoy the ride!
If there's already an older version of KitKat on your gadget, Android 4.4.2 XXU1BNE3 will be sure to land on it very soon. As soon as you've performed certain requirements and made sure that the tablet you own is the Samsung SM-T325.
The update firmware for this upgrade came out for Germany this month. If it ends up on another tablet model, you will be left with a bricked device. But if it lands on the right gadget, you'll enjoy loads new stuff. Including apps, features, customization tools, battery tweaks and the like.
The improvements
After your tablet gets an update, several things will affect it in case it's rooted. For instance: the tablet's system partition will be erased. Another upgrade disadvantage has to do with root access, which will be revoked. The Galaxy Tab model you're using with our guide will preserve its data. The internal and external SD cards won't be affected by the new firmware.
It's not possible to get the Android 4.4.2 XXU1BNE3 with KIES. This is why OTA is another method you can use. But this option is available only on a tablet running stock ROM.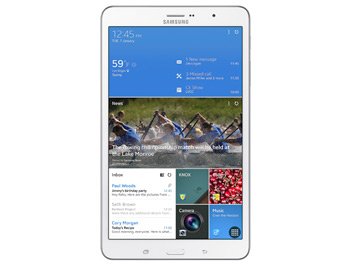 Prerequisites
If there's something you have to do before the update, it's the following:
USB drivers that are for your tablet must be installed on the notebook;
a notebook with Windows on-board must be used for the upgrade procedure;
a full charge of the tablet's battery must be performed;
the tablet's security software needs to become deactivated for the upgrade;
do the same for the security software that's on your laptop;
a regular backup must be generated to protect the tablet's data;
don't forget to have a full NANDroid backup generated, too;
the USB Debugging option on the Galaxy Tab Pro 8.4 T325 must be turned on.
Step by step instructions
This is where we introduce our upgrade steps.
The one to begin the update with asks this from you: download Odin v3.09 from this page on the laptop. After that, the same device must have another file downloaded on it. And that's . Unzip them with WinRar.
After the extracted files are on your notebook, you can look for Odin v3.09.exe and open it on the notebook. If you're done with this file's launch on your device, you should boot the gadget in Download Mode.
For this particular move use these instructions: simultaneously press and hold Home, Power and Volume Down, wait a bit, then look for a boot message; when it's there, press this: Volume Up.
The next phase concerns the creation of a connection between your notebook and tablet. Do it by using the latter's USB cord.
Odin is going to tell you if the devices are connected; it will do so by displaying a blue sign. Add the firmware file to the AP / PDA now and after that check Auto Reboot.
Once this box is activated, go to the one called Re-partition. Uncheck it, then find F. Reset Time; check this box, too. After you're done with the boxes, go on by tapping "Start".
Once this option is activated, the new firmware will enter a flashing stage. This will end as soon as a "Pass" message comes up in a green background and the tablet starts again.
If all of the above happens, you'll have to wait until the restarting is done. When it is, unplug the tablet from the laptop. The USB cable has to come out if you want to properly disconnect the two.
[sc name="banner-jos"]Go to the Galaxy Tab Pro 8.4 (LTE) SM-T325, tap Settings on it, find About Tablet and tap it, as well.
By opening the new firmware as instructed, you can take it for a spin. When you're sure you want to keep it, that's great. But if you want to get rid of it, the NANDroid backup file will help restore the gadget's previous ROM. The upgrade procedure will, unfortunately, be revoked afterwards.
Below this post is a comment section. Try it out if you have problems during the update.