How to Update Galaxy Tab Pro 10.1 SM-T520 to KitKat 4.4.2 XXUAND1
Galaxy Tab Pro 10.1 SM-T520 will be enjoying a make-over shortly. What will result from this? Android 4.4.2 KitKat. There is a whole process involved in updating your tablet to this. So wait and see what it's all about!
Once a tablet like the Galaxy Tab Pro 10.1 SM-T520 meets with the new Kitkat, sparks will fly. What we want to say is that your gadget's going to have all the right things happen to its performance, battery and whatnot. All of this will be done, however, with XXUAND1. Launched this April for France, the firmware must only be installed on the tablet this guide is all about. Having it on another tablet will result in the device's damage.
The novelties
There are certain tweaks, options and so which come with the upgrade. Their role is to make your tablet easier to use. Also, they introduce ways to customize the device, help its battery last more and the list goes on. It should also be said that the update will not damage your gadget with security threats.
Even if the latest OS delivers all of the above, you won't be able to have it via KIES: the firmware's KIES logo is not turned on. OTA can be used instead of this guide if you want; but the OTA always requires stock ROM to run on your gadget.
Root access will be revoked from your tablet once the update's done. Damage is also going to happen to the device's system partition, which will be wiped out. Nothing will affect the internal/external SD cards and important data will stay intact.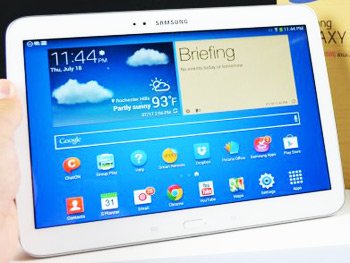 Prerequisites
If you're all set for an upgrade, mind the following pre-requisites beforehand:
the upgrade must be performed with the help of a Windows-running laptop;
the security programs running on the latter must be disabled;
the tablet's own security programs must then be turned off;
a full recharge of the tablet's battery should be performed;
create many backups for the gadget's data;
make a full NANDroid backup via these guidelines;
USB drivers for your tablet must be downloaded on the laptop;
USB Debugging needs to be activated on the Galaxy Tab Pro 10.1 SM-T520.
Step by step instructions
This finally brings us to the actual update procedure. This is a process that requires some instructions to be carried out.
With that in mind, let's find out how to perform the introductory step: download the on your notebook. The same device must now also sport Odin v3.09. Once the right packages are downloaded on it, their files need to go through an unzipping via WinZip.
The extraction will make you get in touch with various files. Odin v3.09.exe, one of them, has to be open on your laptop. So launch it there, then do this: start your tablet in Download Mode. If you've never done this, follow our lead and press and hold Home, Power and Volume Down simultaneously and, once a boot message is shown on the display, press Volume Up only.
The USB cable which is part of your tablet will have to be used for this next step. According to the latter, use that cable to create a connection between the Galaxy Tab Pro 10.1 SM-T520 and your laptop.
The Odin will soon start searching for your tablet. While it does that, wait. Soon afterwards, a sign will pop up in Odin; it should be blue. This is how you'll be announced that the plugging succeeded.
You may now move the firmware file to AP / PDA and check the boxes that have these names: F. Reset Time and Auto Reboot. Re-partition, another box you'll see, must be unchecked.
Now go ahead and make sure you flash the XXUAND1 official firmware on your tablet by clicking on "Start". How much should you wait till the firmware's on your gadget? Round 15 minutes.
If the tablet comes up with a green box saying "Pass" and then you see it reboot, you should disconnect it from the notebook.
[sc name="banner-jos"]Once the products are not in close connection to one another, your Samsung T520 will have been updated to the KitKat 4.4.2 XXUAND1. Which is the firmware that can be launched only if you do the following: tap Settings, wait for About Tablet to be displayed, then tap it.
The NANDroid backup we mentioned before can be used should you want the former ROM back. Along with the re-appearance of this ROM, the tablet's update will be revoked.
Consider using the field below if you want to leave questions.